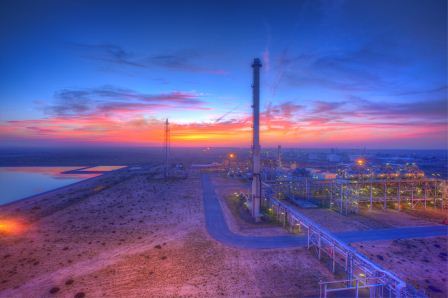 Dana Gas has reported a 53% increase in adjusted net profit for 2022, although with some warning signs flashing around its receivables in Kurdistan and Egypt.
The Sharjah-based company said it adjusted net profit reached $196 million for the year, up from $128mn. Net profit was down, though, at $182mn versus $317mn.
Dana CEO Patrick Allman-Ward said the results were a "testament to our ability to control costs and maintain production levels amid a prolonged environment of high energy prices".
Group production in 2022 was 60,200 barrels of oil equivalent per day, down 3% from 2021. Egypt volumes were down 8% at 25,900 boepd, while Kurdistan was up 1% at 34,300 boepd.
It carried out debottlenecking at Kurdistan's Khor Mor facility in the second half of 2022, increasing gas throughput by 50 million cubic feet per day to 500 mmcf per day.
Khor Mor achieved its 500 mmcf capacity in January this year. Dana said the positive impact of this would be seen in production and revenues for 2023.
The company has also completed the drilling of four, from five planned, development wells at Khor Mor.
Allman-Ward hailed the work in Kurdistan. "The successful completion of the project in [Kurdistan] and our plans for maximizing production in Egypt will have positive impact on the environment as gas production displaces more carbon intensive fuels for power generation which will enhance the quality of life of residents in [Kurdistan], Iraq and Egypt," he said.
Dana has also carried out a consolidation of its licences in Egypt. This, it said, would provide "enhanced fiscal terms", extending their life and helping it maximise value. It expects the Egyptian Parliament to ratify the agreement in 2023.
Revenue increased 17% to $529mn from $452mn. Dana attributed this increase to higher prices and more production in Kurdistan. Operational costs fell 5%, to $57mn.
"The outlook for this year remains encouraging, especially if oil prices remain at current levels," the Dana CEO said.
Receivable squeeze
There are challenges, though, he warned, highlighting collections in Kurdistan and access to foreign currency in Egypt. As of the end of 2022, Egypt owed Dana $30mn, while Kurdistan owed the company $64mn.
Receivables were higher in 2020, at $130mn for Egypt and $39mn for Kurdistan. Egypt made good progress in paying down its debt to Dana in 2021, reaching $24mn by the end of the year. However, the country's economy is struggling and a number of companies have reported challenges recently in securing US dollar payments.
"We remain vigilant as we look at our top priorities for the year", said Allman-Ward. Dana will seek to "develop the vast potential" of its assets in Kurdistan. In Egypt, he said, the company would aim to maximise the value of its Egypt assets "once the new concession consolidation agreement is ratified by the Egyptian parliament".
Recommended for you

Eni plunges into Thuraya work, picking up from Dana Gas