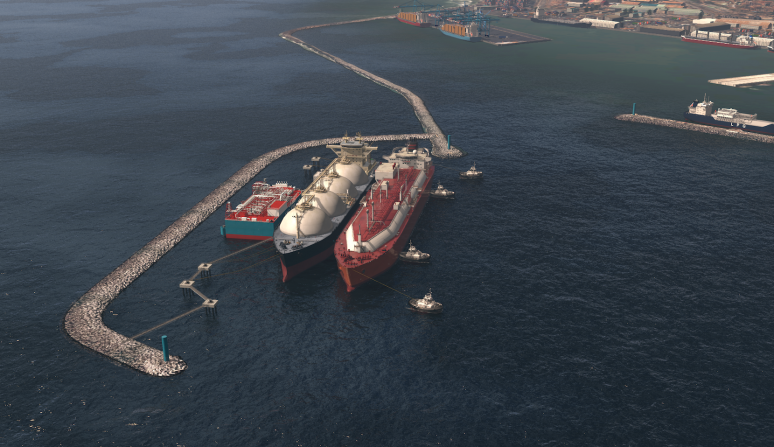 The Emerging Africa Infrastructure Fund (EAIF) is lending $31 million to Access LNG to support floating regasification plans in Ghana's Tema port.
The loan for the LNG infrastructure will run for 10 years. The backers reached financial close on November 16.
The EAIF loan will part finance the floating regasification unit (FRU). The project will integrate this with an LNG carrier, which will serve as a floating storage unit. Both of these will be permanently moored.
The fixed infrastructure parts of the work were financed separately. These include a breakwater, mooring facilities, a subsea pipeline and an 8 km onshore pipeline. The link will connect the port with Tema's industrial areas.
Regasified gas will supply thermal power plants and industrial users. In the power sector, the gas will displace light crude oil and heavy fuel oil. The companies working on the project had hoped to start operations in mid-2020.
"The new terminal at Tema is an innovative approach to securing reliable and cost efficient gas supply. The investment by EAIF will contribute to reducing carbon emissions, contributing to Ghana's long-term energy needs and strengthening its economic stability and economic development efforts," said Martijn Proos, a director of Ninety One, which oversees EAIF.
The executive went on to say the Tema facility "answers Ghana's need for greater fuel security and optimal supply. The project will reduce the cost of power generation for Ghana's power sector, provide an adequate margin of fuel reserves and benefit the ongoing expansion of the country's electricity and gas grids."
Leading model
Access LNG is a joint venture between Helios Investment Partners and Gasfin Development.
Helios' partner Ogbemi Ofuya said the work at Tema provides "both growth and environmental sustainability so that when the world recovers from COVID-19, Ghana will have the energy infrastructure needed to help it compete".
Ofuya raised the prospect of Access LNG providing additional LNG projects in sub-Saharan Africa. Given current low prices for the commodity, "there is a great opportunity for Access to support markets switching to natural gas as a clean, cheap transition fuel as we push developments to support a greener, more efficient energy economy".
EAIF is part of the Private Infrastructure Development Group (PIDG). Seven donor countries support the group, as does the World Bank.
Gasfin said the Tema project will be able to deliver 250 million cubic feet per day of gas, in addition to being able to bunker, reload and break bulk. Shell is to supply the terminal under an agreement with Ghana National Petroleum Corp. (GNPC).
Recommended for you

Ghana nearing construction on new Takoradi-Tema link