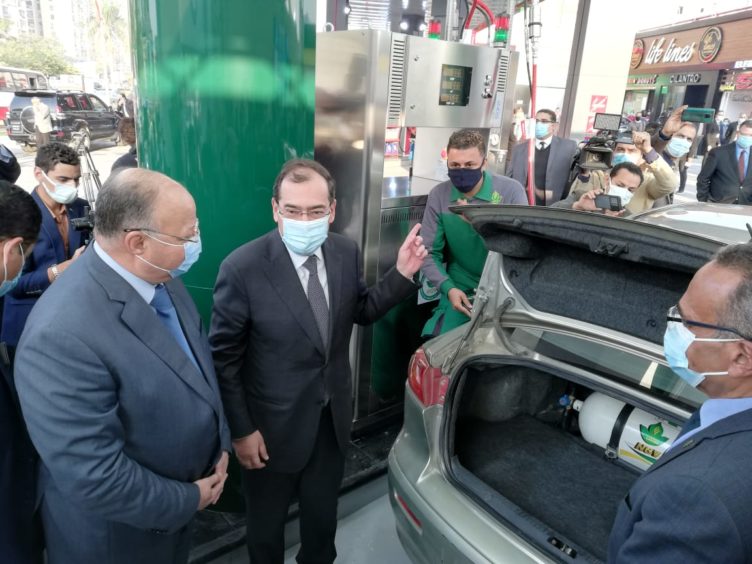 Egypt has renewed its push to convert cars to run on natural gas, with Egyptian President Abdel Fattah al-Sisi lending his weight to the drive.
The president launched the first Go Green Exhibition. A statement from al-Sisi's spokesman said the exhibition intended to roll out financing programmes for conversion work, in addition to highlighting some of the benefits of such a shift.
The expo also allows the government to demonstrate the steps it is taking to ensure the required infrastructure is in place.
Al-Sisi inspected various parts of the exhibition, both the government pavilions and those of international companies.
An entire pavilion has been devoted to the ministries, banks and insurance companies to provide advice to citizens aiming to convert their cars. Nine domestic banks participated in the show.
The Central Bank of Egypt (CBE) launched a 15 billion pound ($955 million) initiative on January 3. This involves loans with an interest rate of 3% that will run for seven to 10 years.
In the first three years, the state intends to convert, or replace, 250,000 car, Daily News Egypt reported.
Ministerial moves
The newspaper quoted Egypt's Minister of Trade and Industry Nevine Gamea, speaking on the first day of the expo. The minister also noted reductions in the state's budget for petroleum product subsidies.
Running cars on gas rather than oil products represents a saving of around 50%, Gamea said. The Micro, Small, and Medium Enterprises Development Agency (MSMEDA) will finance the conversion of 150,000 vehicles by 2023, she said.
MSMEDA signed two funding agreements, with Gastec and Car Gas, on the sidelines of the Go Green event. This sees the agency providing 100mn Egyptian pounds ($6.4mn) under each of the deals. The agency has committed the cash to further the presidential push.
Egyptian Minister of Petroleum and Mineral Resources Tarek El Molla also played a part, inaugurating a new gas station in Cairo. The facility's capacity was doubled and it offers a range of products, including petrol, gas and electric charging points.
In comments at the ceremony, El Molla noted the domestic availability of gas as a fuel.
Recommended for you

BP talks up $3.5bn investment in talks with Egypt president