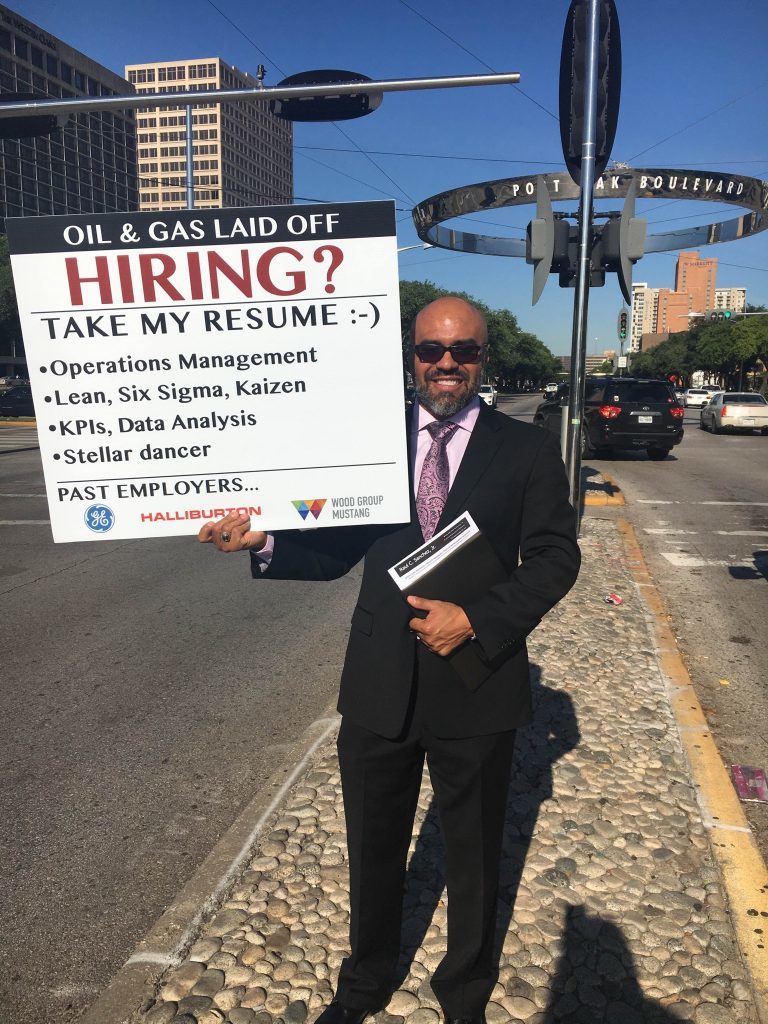 Visitors to OTC in Houston earlier this month may well have caught the incongruous sight of a well dressed man touting a placard on a busy street corner that read: Hiring? Take my resume.
In a world of social media and online job searches, unemployed oil worker Raul Sanchez took an old-school approach to a new problem for the sector – trying to find a job.
Sanchez, 44, is a highly experienced oil and gas professional, who was laid off from his well-paid job as an engineering operations leader with GE Oil and Gas in March 2015.
With experience working as a defence contractor in Iraq and skills including data analysis and operations management, Sanchez was used to being offered good jobs, but he was happy and settled in his role.
"That all changed when my whole department was shut down. Since then it's been really hard. I've had more than 40 interviews with more than 28 companies – and that's not including first round interviews. I have applied for hundreds of jobs. I even offered to work for free, just to keep my work experience out there," he explained.
Sanchez believes he is typical of the new class of unemployed oil worker – highly educated, highly skilled and – formerly – highly paid.
"It makes it so hard to pick up a job – employers can really pick the cream of the crop because there are so many good people out there.
"Sure, I'm using the social media such as LinkedIn and all the modern tools to find work, but I thought I'd do something to stand out. I've had a tremendous response, people have been really kind and interested in what I'm trying to do, but so far I've not had that job offer."
Sanchez has been eating into his savings to support him and his  three-year-old son. He worked briefly as a driver for online firm Uber and Amazon in a bid to make ends meet.
Like thousands of other oil workers, Sanchez thought he would have found work overseas, but the oil and gas downturn is a global crisis – with the entire industry going through similar pain.
"We've had around 50-60,000 lay offs in Houston alone since the start of 2015. There's so many qualified and experience people out of work. No-one is exempt," he said.
"I've been to many final interviews. I always ask for feedback about why I didn't get the job. I've been told that some employers think I'll leave as soon as the oil price picks up or that I'm over qualified and 'probably get bored'. I tell them that all I want to do is earn a wage and help support my son."
Despite the knockbacks, Sanchez is remaining positive.
He said:"You have to be positive. I've learned from many good people during my career and that has given me faith in myself. It's about having the right attitude and keeping mind that this situation is temporary. It will turn around and get better."
Sanchez said he was aware that the UK, and particularly Aberdeen was going through a similar crisis to Houston, both cities fortunes being so closely linked with the oil and gas industry.
"I'm open to relocation – I'm looking for jobs in Asia and even the UK, anywhere where a business can use my skills," he said.
Recommended for you

OGA prepared to get tough over energy transition