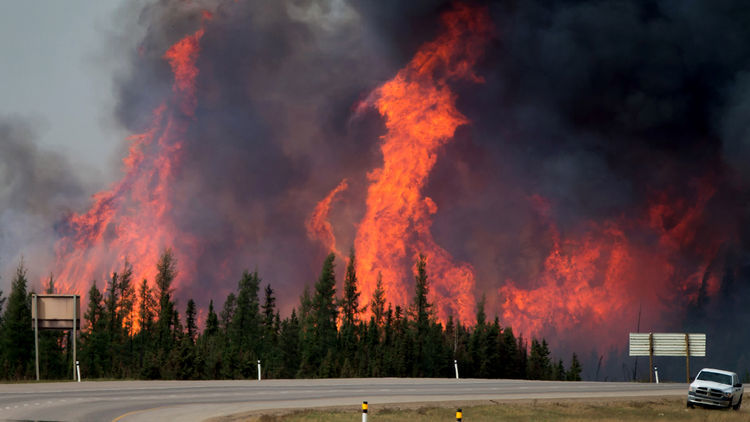 Albertans who fled the wildfire devastation in the oil-sands community of Fort McMurray can tentatively expect to return in a couple of weeks, while the blaze still rages elsewhere in the region and major production sites remain shut.
The provincial government is planning a phased reentry over four days starting on June 1 for those who wish to go back. That's based on expected conditions such as no threat from fires and improved air quality, as well as access to critical infrastructure and essential services like emergency medical care, Premier Rachel Notley said Wednesday.
"This is our best guess," Notley told reporters at a briefing, heeding to demands from evacuees for a timeline for when they can go home. "It's a balancing act."
The wildfire at the heart of Canada's energy industry has almost doubled over the past week, ravaging an area five times bigger than New York City. More than 80,000 people around Fort McMurray fled the inferno earlier in the month and the industry shut down more than 1 million barrels a day of production. As the flames returned, oil-sands developers were forced to evacuate about 8,000 workers who had returned to lodges north of the community to start resuming operations this week. That's delaying restart plans for some of the country's largest crude-production plants.
While one evacuated work camp has since burned, other remote accommodations facilities have been kept safe by firefighters, officials said at the briefing. Flames are encroaching on some of the biggest oil-sands mines, including ones operated by Suncor Energy Inc. and Syncrude Canada Ltd., which are also being protected by firefighting efforts and their buffer zones of cleared vegetation. Rain and cooler weather that's forecast in the coming days is buoying hopes the fire risk will subside, Notley said.
About 15 millimeters (0.6 inch) of rain was expected starting Thursday, Travis Fairweather, an Alberta Forestry spokesman, said by phone Wednesday. The blaze has grown to about 4,230 square kilometers (1,633 square miles), he said.
'Fingers Crossed'
"We're really hoping to see rain," Fairweather said. "We're keeping our fingers crossed for that."
The delays resuming production in the oil sands, which contain the world's third-largest reserves, helped push crude to a seven-month high. West Texas Intermediate touched $48.95 a barrel Wednesday in New York, the highest since October.
The fire is a setback for Canada's economy and energy industry and is estimated to be the country's costliest disaster. The Conference Board of Canada forecasts that 14 days of production cuts in the oil sands represent a hit of about C$985 million ($763 million) to the Alberta economy.
Rain is expected to continue through Sunday, according to government weather forecasts. There are about 1,900 firefighters, 189 helicopters, 29 air tankers and 426 pieces of heavy equipment battling fires across Alberta, including the blaze around Fort McMurray, Notley said on Wednesday.
Workers Evacuation
Oil-sands production came offline as companies evacuated workers and shut down power lines and pipelines. Companies including Suncor and Syncrude took similar measures again this week and, as of Wednesday, still weren't restarting due to the fire risk, Notley said. Inter Pipeline Ltd., which said Tuesday it had partially shut down its Polaris and Corridor systems due to fires, said Wednesday it had resumed operations.
Canadian Natural Resources Ltd. was far away from fires and could continue producing during the crisis. Royal Dutch Shell Plc has been able to continue ramping up initial lost output even with the blaze turning north earlier this week. Mining operations will be able to restart quickly once the fire risk subsides, while projects that use steam to melt bitumen below the surface and pump it out of the ground will probably take more than a week, Amir Arif, an analyst at Cormark Securities Inc. in Calgary, said by phone.
"Mines shouldn't take long to get back," Arif said. "The thermal will take longer."
While producers make plans to get workers back to their plants and camps, the Alberta government is focused on getting Fort McMurray residents safely home, Notley said. Evacuees will be allowed to return in waves, based on the neighborhoods where they lived, and are being advised to bring non-perishable food, flashlights, prescription medications and other supplies, she said.
"We don't want to have people completely commit to a certain date but at the same time, we've been hearing more and more that people need to have some idea of the dates they're dealing with," Notley said. "We hope we've achieved that balance."
Recommended for you

Death of Keystone XL sparks rush to ship oil-sands crude by rail