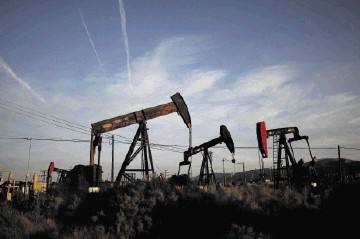 Oil explorers in the U.S. put a pause on their rig cancellations this week as improving technology and rising prices make some basins more profitable.
Rigs targeting crude in the U.S. were unchanged at 318, after 10 were idled last week, Baker Hughes Inc. said on its website Friday. Explorers have dropped more than 1,000 oil rigs since the start of last year. Natural gas rigs were trimmed by 2 to 85, bringing the total for oil and gas down by 2 to 404.
Spending on drilling and completing wells in the lower 48 states is expected to be cut to $40 billion this year, compared to $133 billion in 2014, Jud Bailey, an analyst at Wells Fargo, wrote this month to investors.
At today's oil prices, cash flow for explorers and producers is roughly $7 billion to $9 billion higher than estimated in January, Bailey wrote.
"Essentially, with depressed levels of D&C spending and E&P cash flow, every $1 increase in oil price will have an outsized impact on cash flow that can be re-invested through the drill bit," he wrote in the note titled, "Adding 200 Rigs by 4Q16? It's Not as Hard as You Think."
America's oil drillers have been idling rigs since October 2014 as the world's largest crude suppliers battle for market share. Despite the cutbacks, U.S. production has only recently begun to falter as new techniques that increase efficiency keep the oil flowing.
Output fell last week by 11,000 barrels a day to 8.8 million, Energy Information Administration data show. It was the 10th straight week of declines.
Recommended for you

Russia-driven crisis exposes UK's energy madhouse