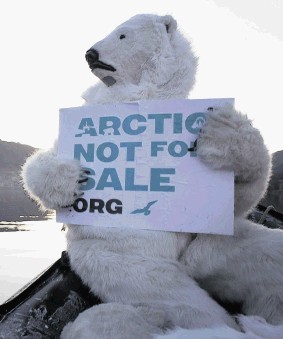 The Obama administration has released its new safety regulations for drilling in the Arctic.
New measures include operators having a separate rig on hand that could drill a relief well if an underwater well fails, instant access equipment that can be deployed to smother oil spills, and the ability to predict, track, report and respond to ice conditions and adverse weather. Oil spill response plans would also have to account for adverse weather.
Abigail Hopper, the Interior Department's director of the Bureau of Ocean Energy Management said: "The unique Arctic environment raises substantial operational challenges.
"These new regulations are carefully tailored to ensure that any future exploration activities will be constructed in a way that respects and protects this incredible ecosystem and the Alaska Native subsistence activities that depend on its preservation."
However, oil lobbyists were critical of the introductions, insisting the industry already worked hand-in-hand with the government on safety.
Erik Milito, the director of upstream and industry operations for the American Petroleum Institute, added: "This is an unfortunate turn by this administration and will continue to stifle oil and gas production."
The regulations come after Shell abandoned its plans in the Alaskan Arctic.
The operator said it's marginal discovery in the Chukchi Sea was not enough to pursue activity in the region for the "foreseeable future".
Recommended for you

Ocean Ranger: 40 years since oil and gas rig tragedy