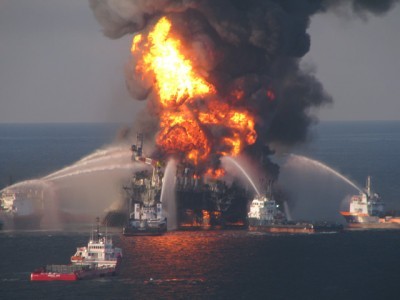 Energy giant BP expects to pay a large chunk of the remaining damages from the Gulf of Mexico's Macondo disaster this year.
The supermajor made the announcement after posting a $115million headline profit for 2016 in its full year results.
Chief financial officer Brain Gilvary ran through the figures for pay-outs made after the 2010 Deepwater Horizon blast, which resulted in the death of 11 people.
He said 2017 cash payments related to the oil spill are expected to be lower than in 2016, around $4.5-5.5 billion.
This will fall sharply to around $2 billion in 2018 and to a little over $1 billion a year from 2019.
He said: "Turning to the Gulf of Mexico oil spill costs provisions: the total cumulative pre-tax charge for the incident is $62.6bilion or $45.1billion after tax.
"The charge taken for the fourth quarter was $800million pre-tax or $530million after-tax.
"This reflects our latest estimate for claims including business economic loss claims, other costs and the ongoing unwind of discount effects on the provision, which have no impact on cash.
"Significant progress has been made in the fourth quarter and we are moving towards completion of the process for resolving the business economic loss claims. Amounts to resolve the remaining claims are expected to be substantially paid this year.
"We have revised our provision for the claims to reflect our best estimate of the cost of the remaining claims.
"The pre-tax cash outflow on costs related to the oil spill for the full year 2016 was 7.1billion."
In 2010, the Deepwater Horizon floating drilling rig, which was owned by Transocean and used by BP, experienced a well destabilisation.
This led to an explosion and a leak in the Gulf of Mexico.
The Business Economic Loss Claim is for businesses that assert economic loss due to the spill.
Gilvary added: "In terms of Macondo, the payments are higher in Q4 than anticipated this year.
"Each quarter we look at the provision. At Q2 we had around 34,000 Business Economic Loss (BEL) claims still to be processed. We're now down to 9,000 so of course you've got two quarters worth of belt claims that have now been processed.
"Some of those have come through at higher rates, hence why we have reevaluated the provision. But we are now in a more confident position than we would have been given that we are down to 9,000 claims and that's why the provision has come up."
Recommended for you

Interview: Ex-BP boss Lord Browne calls for calm on North Sea protests