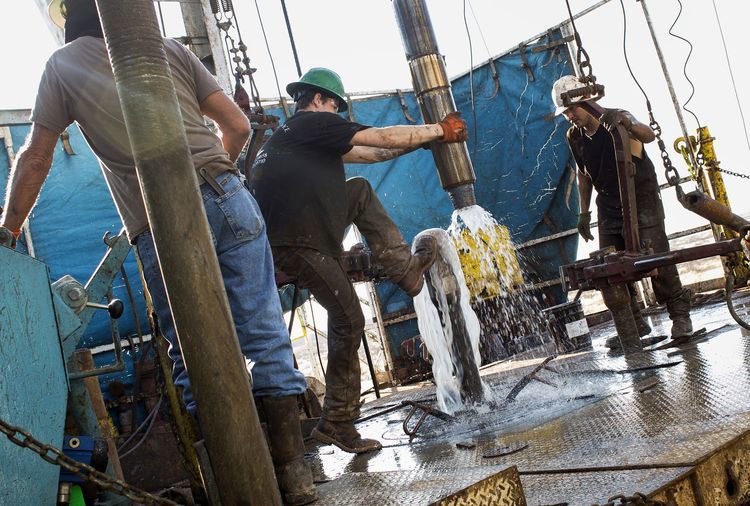 U.S. crude production will average more than 10 million barrels a day for the first time in 2018, breaking a record almost five decades old and keeping prices from rising as much as previously estimated, government forecasts showed Tuesday.
Output will average 10.01 million barrels a day next year, topping the previous high of 9.6 million in 1970, according to the Energy Information Administration's monthly Short-Term Energy Outlook. That's up from 9.96 million barrels projected in May. The agency cut its 2018 forecast for West Texas Intermediate crude, the U.S. benchmark, by 2.7 percent from May.
"Increased drilling activity in U.S. tight oil basins, especially those located in Texas, is the main contributor to oil-production growth," acting EIA Administrator Howard Gruenspecht said in an emailed statement.
U.S. drillers have added rigs for 20 straight weeks, the longest streak in at least three decades, undercutting efforts by the Organization of Petroleum Exporting Countries to cut production and eliminate a global supply glut. Rigs in the U.S. have more than doubled in the past year, according to Baker Hughes Inc., with Texas' prolific Permian Basin leading the surge.
Drillers Add More U.S. Oil Rigs as OPEC Faces Extended Slump
WTI will average $53.61 next year, down from last month's estimate of $55.10, the report showed. The agency raised its 2017 estimate to $50.78 a barrel from $50.68. Brent crude, the benchmark for more than half the world's oil, is projected to average $55.61 next year and $52.69 this year, compared with prior estimates of $57.10 and $52.60.
For 2017, production is forecast to rise to 9.33 million barrels a day, compared with a May estimate of 9.31 million.
Recommended for you

Oil steadies after four-day surge as US product markets run hot