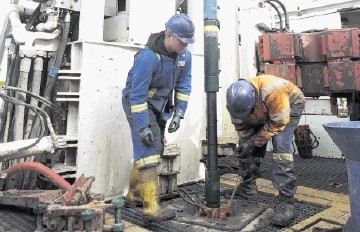 US oil companies are spending more money on so-called super-spec rigs, machines that churn out wells much faster than older models that led the first shale boom.
Xtreme Drilling Corp., a Canadian rig supplier, said this week it has locked in more than $24 million in revenue over the next year with three contracts for upgraded super-spec rigs, pushing the rig day rates toward $22,000 a day.
And Nabors Industries, a rig contractor in Houston, recently said it has contracted some super-spec drilling rigs at prices of up to $23,500 a day, almost 20 percent higher than spot rates in places like the Permian Basin and the Eagle Ford Shale in Texas.
"Operators are clearly growing concerned with the availability of super-spec equipment," said James West, an analyst at investment bank Evercore ISI. That's why some US producers have been willing to boost rig contract prices by 10 percent to 20 percent, West said.
These super-spec rigs – built with a bigger load capacity and faster drilling systems – can drill an oil well in less than 10 days, shaving more than a week from the average drilling time in 2010, and allowing companies to drill a greater number of wells each year.
Matt Porter, president and CEO of Xtreme, said these higher rates show operators will pay a premium for more efficient drilling even though oil prices have slumped in recent weeks.
West said it's possible if oil prices stay cheap next year, the US rig count could drop by 20 percent from a 2017 exit rate of about 1,000. But the bigger rigs, he said, could still "enjoy robust utilization" in 2018.
This article first appeared on the Houston Chronicle – an Energy Voice content partner. For more click here.
Recommended for you

Shell and Deltic pick Maersk rig for 'high impact' North Sea exploration target