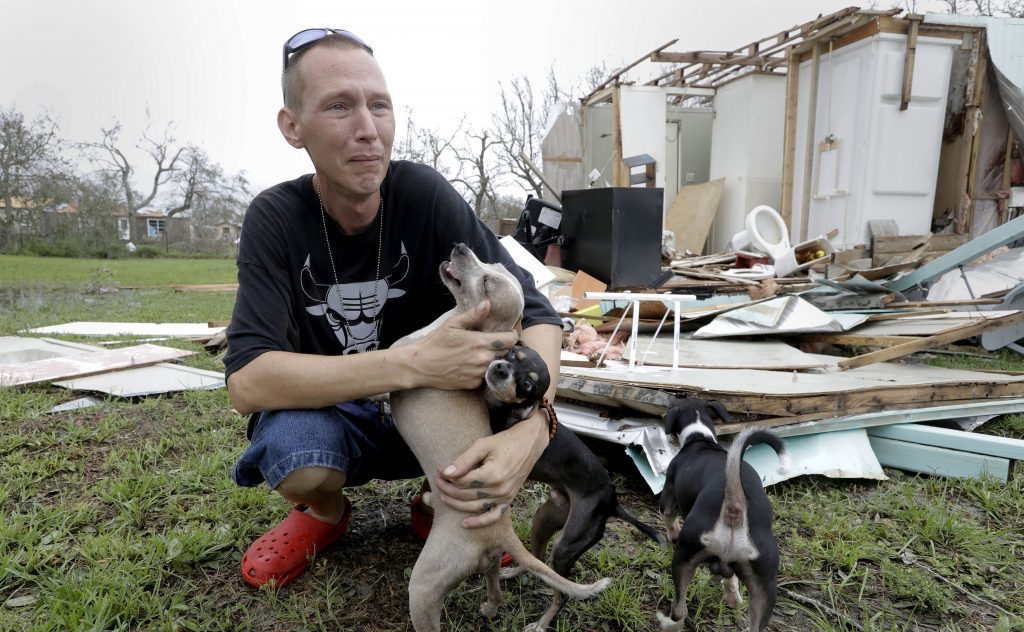 Sam Speights takes medication for extreme anxiety and panic attacks, but there is no pill for a hurricane – especially when you venture into it at the height of its fury.
"You don't see the flying debris until it's right in front of you," said Mr Speights. "You can't see it coming."
Emergency officials co-ordinating triage in the coastal city of Rockport, where Hurricane Harvey barrelled into Texas, said they considered it almost miraculous that the number of confirmed deaths from the storm in their area so far was only one person and two in the state of Texas.
Mr Speights, 37, could easily have been one of those.
Unable to get a relative or friend to come and pick him up or to find a ride out – he does not have a car – he took shelter with his six dogs, a huskie and five rat terriers, in his three-bedroom lime green trailer.
His wife and 15-year-old son had fled along with nearly everyone else in Ruby Allen Street, a line of trailer homes on a 10ft rise three miles from the Gulf of Mexico.
His world exploded after the calm of the storm's eye passed, in the fury of swirling, sustained 130mph winds.
First the tin canopy tore off over the living room, then the ceiling peeled up in his son's room.
"I was sitting on my couch and it bounced up and down twice. That's when I decided it was time to get out," Mr Speights said.
He put rat terriers Tex, Rocky, Buck, Angel and Itty Bitty in a room and looked out towards the street.
"I said, 'Oh God, I'm going to die'," he said.
He grabbed his husky Nanook, and headed outside. The storm surge was about five feet and had nearly filled the drainage ditch.
"I almost drowned in that creek," said Mr Speights, whose only light was his mobile phone's torch.
"I was worried about a big wave coming and dragging me out to sea."
He could barely see and something hit him in his right shoulder, he recalled, rubbing it as he stood next to his neighbour's toppled mobile home, its steel base twisted.
Nearly every mobile home on the street was tossed, flattened or pierced and vacuumed by Harvey.
The wind was absolute confusion.
"It was coming from every direction. It was circling around. It was hard to determine, to be honest," said Mr Speights.
He made for an open green corrugated steel vehicle shed and sheltered there until it started crumpling. Then he ran past another three houses to a concrete bunker-like structure his landlord had heavily reinforced with steel bars. It was locked.
Next to it stood his landlord's pick-up. "I grabbed the door handle," he said. "Thank God it was unlocked.
"I got in there, locked all the doors, pushed down the emergency brake and rode it out until about 4.30 (am)."
Then the carport ceiling began to curl and the pick-up was vibrating, debris crashing along its sides.
Tree limbs flew and Mr Speights feared the truck's window would explode.
"I didn't want my head to get torn off," he said.
Mr Speights jumped out and made for the adjacent concrete-block house.
"I just snuck into the back window and jumped in. That thing is solid," he said.
He and Nanook, still at his side, were finally safe, but Mr Speights has lost everything he owns.
He cycled three miles to the emergency management centre in Rockport on Sunday, where he was given emergency food rations and a cooking kit.
He has no insurance, his wife works as a waitress and he, a former telephone sales representative, has not worked for about a decade.
Two Border Patrol agents, who along with state troopers, National Guard soldiers and others are assisting in recovery efforts, stopped at Mr Speights' trailer on Sunday afternoon to check on him and tell him authorities had a welfare cheque for him.
But there is nowhere open to cash it, no power, running water and other essential services.
"We're just a low-income family and this hurts," Mr Speights said after they left, holding back tears that later came when he squatted in his puddled back garden, surveying the roofless, wall-less back of his trailer, his rat terriers heaping on affection.
He spent Saturday night on his rain-sodden couch.
"It's disgusting. I wrapped it in plastic so I could sleep on it. I woke up smelling like mould," he said.
Where would he and the dogs plan to sleep on Sunday night?
"I don't have a clue," he said.