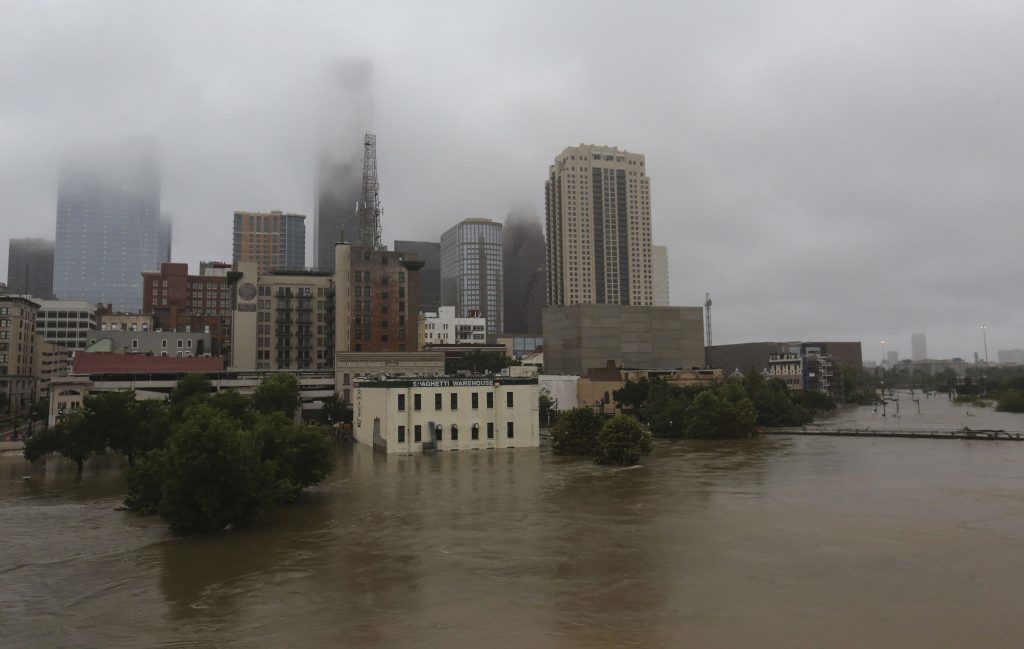 Ex-pats from Aberdeen who are living in storm-ravaged Houston have said they fear they could run out of food.
Greg Wilson, 34, originally from Cults, has witnessed people queuing for more than an hour outside shops to get food and water.
The majority of stores in Houston remain closed and those that have opened are quickly running out of the essentials.
Greg, who works in IT for Bristow, said: "Houston is a city of rivers at the moment. It is pretty scary out there.
"Luckily we are on the third floor of a high-rise so we are fine, but we can't go anywhere.
"We are stuck in the house at the moment. We tried to go out the other day for food, milk and water but the supermarket had an hour-long wait just to get in.
"We didn't want to wait in the rain so we headed to a petrol station instead but they were out of things as well. They only had chewing gum and things you don't need for a situation like this."
Meanwhile, Colin McCrae, 34, also originally from Cults, lives just a few miles west of downtown Houston in an area called Montrose.
He said: "We stocked up on supplies on Thursday before the rains hit, including filling up our gas tank and taking out plenty of cash from the ATM in case power and internet failed.
"Even then, we've had problems finding bottled water, canned goods and fresh produce in the local grocery stores.
"On Monday we realised we were running out of food faster than we had expected.
"A trip to the four most local grocery stores was fruitless; three were closed and one had just stopped allowing new customers in.
"Police were stationed outside to enforce this, and we witnessed an angry and frustrated confrontation between a lady who was begging to be let in.
"In the end we were able to get take-out from one of the few restaurants that had managed to stay open.
"We also found a liquor store which was open. They sold snack food along with beers, wines and spirits – so at least we knew we didn't need to weather the rest of the storm sober."
Greg, who moved to Houston nine years ago, lived through Hurricane Ike in 2008, and said the worrying thing now is the situation with the reservoirs.
There are three reservoirs in the Houston area and at present they are all full, but the authorities are questioning whether to release water from them.
He said: "The water is still so high around the area but it could get worse if the water is released from the reservoirs.
"Myself and my girlfriend Steph are okay at the moment, it is just the food situation that is worrying."
Colin was meant to fly home to Aberdeen yesterday to spend three weeks with his father who has cancer.
Unfortunately both airports in Houston are shut and the soonest he can get home will be next Tuesday.
Colin said: "I contacted Singapore Airlines and they said Tuesday was the closest time I can fly out.
"I would like to be with my dad, however, I totally understand the situation."
Recommended for you
X

Officials meet in Aberdeen to discuss future of North Sea