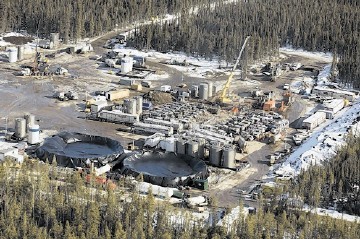 Suncor said it may scrap its $4.5 billion hostile bid for Canadian Oil Sands if Alberta regulators endorse a poison pill that would give the target company more time to find other bidders.
"There is very real and distinct possibility that the Suncor offer will not be extended beyond the expiry of the 60- day permitted bid," the Calgary-based company said in a submission to the Alberta Securities Commission.
The commission will hear a plea by Suncor in Calgary Thursday to strike down a so-called poison pill adopted by Canadian Oil Sands last month.
The shareholders rights plan would give it 120 days to weigh other offers, doubling the duration of the rights plan it had in place when Suncor made an offer that expires Dec. 4.
Suncor, Canada's largest oil producer by market value, is seeking to take advantage of the oil slump to expand. Canadian Oil Sands is the largest owner of the Syncrude mining project in northern Alberta.
Both companies are cutting costs after crude tumbled about 60 percent since the middle of 2014.
As it seeks to fend off the hostile takeover, Canadian Oil Sands said it had already met with one potential rival bidder and had plans to do the same with at least three others in the coming weeks.
"Four highly credible parties have executed confidentiality agreements," Jamie Anderson, deputy chairman at RBC Capital Markets, said in an affidavit submitted to the Alberta commission. Royal Bank of Canada was hired by Canadian Oil Sands to find alternatives to Suncor's takeover.
Imperial Oil, which is the second-biggest owner in the Syncrude partnership, has been named as a potential bidder for Canadian Oil Sands. Canadian pension funds, which have been active in the oil patch this year, may also be interested, Randy Ollenberger, a Calgary-based analyst with the Bank of Montreal, said in an e-mail.
Recommended for you

Canada's love-hate relationship with oil and gas