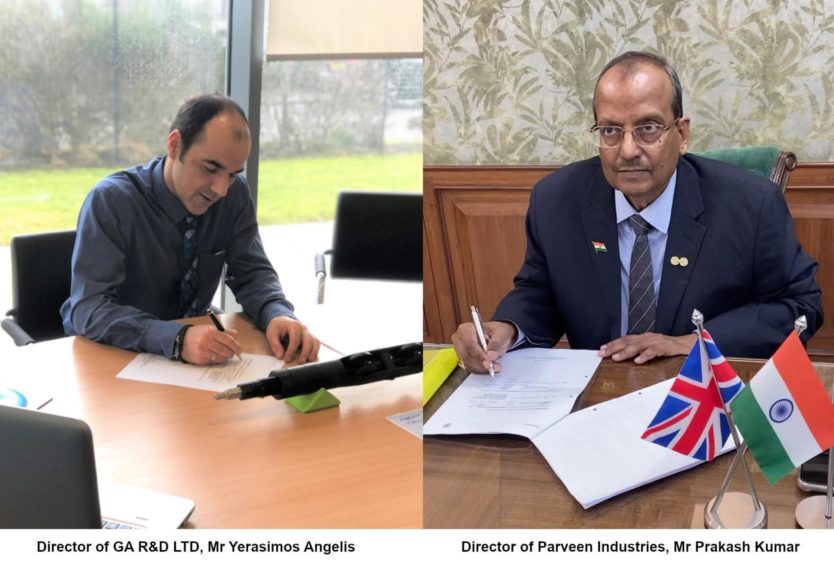 An Aberdeen technology firm and an Indian manufacturing giant are targeting revenues of £4 million over the next two years after inking a commercial agreement.
Parveen Industries, of Mumbai, will manufacture GA R&D's U-Line well intervention tool, under licence, and promote it to the Indian oil and gas market.
GA R&D managing director Yerasimos Angelis said the pact built on export agreements already in place in West Africa, South East Asia and the Middle East, where operators are already wielding its downhole roller.
A roller is a type of conveyance tool central to all downhole well intervention operations.
GA R&D claims U-Line is safer and easier to service than anything else on the market, and can cut well intervention costs in half.
Its modular wheel sets and "Formula 1 type design characteristics" reduce rig time, downtime, inventory and logistics costs.
Mr Angelis moved to Aberdeen from Greece in 2000 to study engineering at Robert Gordon University and founded GA R&D a decade later.
Around £250,000 was invested in developing U-Line, with most of the cash coming from director loans, revenue from consultancy work and a Scottish Enterprise grant.
It passed field trials carried out last year by London-listed Seplat Petroleum Development in Nigeria.
At the time, Mr Angelis lamented that he had to look overseas because operators and suppliers were too risk-averse to test the tool in the UK North Sea.
When designing the tool, he drew inspiration from his family's heritage in the automotive industry.
His father Georgios' business was the sole manufacturing contractor for Volvo in Greece from 1976 to 2006.
Mr Angelis started working for the firm as an apprentice during school holidays and carried on after academy before leaving for Aberdeen.
On the deal with Parveen, Mr Angelis said: "We are delighted to be signing this agreement with Parveen, one of India's leading and highly respected oil and gas manufacturing and service companies.
"Securing this deal, worth an estimated £4m over the next two years, enables us to gain an early and strong foothold for the GARD U-line roller technology in the Indian oil and gas marketplace.
"We look forward to building a long term relationship with Parveen."
Parveen was set up in 1960 to make steel pipes and conduits for buildings and power projects.
It began serving the oil industry in 1974 and is now considered a leading manufacturer and global marketer of oilfield equipment.
Parveen director Prakash Kumar said: "Through this partnership and the introduction of this latest UK technology for the oil and gas service industry, we are excited to support and be part of their efforts to improve efficiency and reduce cost in downhole intervention operations."