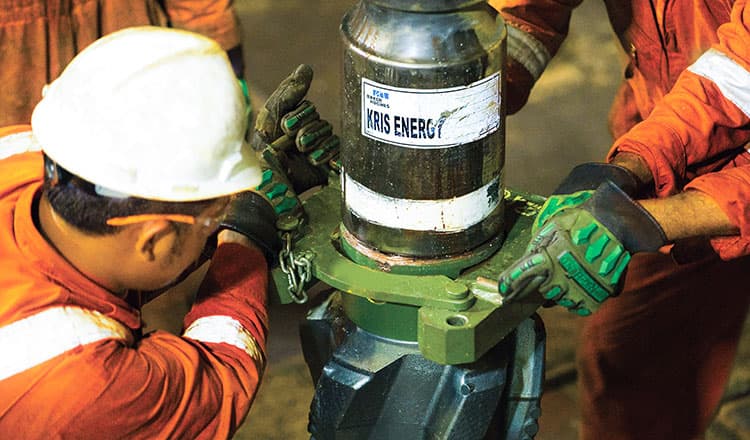 Singapore-listed KrisEnergy – widely seen as a zombie company – is finally on the verge of collapse after production from its Apsara oilfield offshore Cambodia failed to meet expectations. Significantly, it should come as no surprise that the frontier basin disappointed.
The company, majority owned by Singapore conglomerate Keppel Corporation, reported last week that output at its offshore Block A concession in Cambodia was less than half of the originally expected rate.
KrisEnergy conceded that the news created "material uncertainty" over whether the company, weighed down by debts of more than $500 million, can complete its planned restructuring.
KrisEnergy had been betting on oil production from its Cambodia development, which started up in late December 2020, to provide cashflow to keep the company operating.
"Given the significantly lower estimated ultimate recovery and cashflow from the Apsara
Mini Phase 1A development, material uncertainty exists over the group's ability to complete the restructuring exercise and to continue as a going concern," KrisEnergy said in a statement.
The five-well platform, installed between December and February, was "less productive and continuous in nature" than had been forecast, the company said.
Average production between 23 February and 30 March was 2,883 barrels of oil per day – far short of the forecast peak production of 7,500 bopd, a goal that was now "not achievable," reported KrisEnergy.
KrisEnergy added that it had hired an independent consultant to reassess the field's ultimate recovery but admitted it would be "significantly lower" than forecasts.
Moreover, some industry watchers believe KrisEnergy already knew that the Apsara development about 160km off Cambodia's coast in the Gulf of Thailand would disappoint. But KrisEnergy declined to comment on the matter.
"Many inside KrisEnergy knew that Cambodia was going to underperform, including external experts, such as reserve auditors. I have seen documents that suggest their Cambodian numbers were wildly optimistic," a senior industry executive told Energy Voice.
"We didn't believe their mini phase would ever have legs. They needed a story to talk up and they also did not want to lose their Block A concession, so they came up with the mini development. This kind of appeased the Cambodian government and allowed them to keep the restructuring effort going," added the source.
The Apsara Mini Phase 1A development was designed as an initial small-scale project to observe and appraise reservoir performance in the previously unproduced Khmer basin. It will collect vital production and subsurface data to determine the long-term potential and value of the Apsara area in Block A, said KrisEnergy.
But using the development of Apsara in Block A to keep going was a desperate one. KrisEnergy initially joined Block A as a partner in 2010. Neither the then operator Chevron, nor the partners Moeco and GS Energy could see a commercial way forward to make a development worthwhile. Incredibly, in 2014 KrisEnergy paid $65 million for Chevron's 28.5% and operatorship.
After acquiring the remaining interests in 2016, KrisEnergy tried to farm-out a share of Block A and the Apsara field to a range of companies, but all viewers rejected it as non-commercial. In 2016, the certifier NSAI gave a most likely contingent resource recoverable volume of 8.5 million barrels of oil. More recently as the development progressed, and reserves were allowed to be claimed (as a development looked likely), the most likely (2P) reserve number became 6.8 million barrels of oil. This is clearly published by KrisEnergy, as required by the Singapore Stock Exchange. Of these 6.8 million barrels, 6.4 million barrels were the company's 95% share, but only 5.18 million barrels (76%) were their revenue entitlement volume.
Based on the NSAI certified 2P oil volume of 6.8 million barrels, production actually equates to only 2,700 bopd in the first year, declining at 10% per year for the expected 10-year field life. If one uses a more conservative 20% decline rate per year, the first year average production, as suggested by the NSAI reserves, equates to 4,075 bopd. In other words, the NSAI stated and published reserves indicate that first year production would be between 2,700 bopd and 4,075 bopd, but this was nowhere near the KrisEnergy-suggested initial 7,500 bopd. This should have been a red warning flag, but it seems to have been ignored. The actual production figures seem more in line with the NSAI work, but the year is young and average 2021 production may well fall below 2,700 bopd. On 30 March, production stood at 2,493 bopd.
"It's sad really. It was a big bet on Cambodia. I think everybody knew there were sub-surface issues and with all the best will and intent in the world, they have not been able to solve those issues. That makes the project marginally economic, even uneconomic," a shareholder in KrisEnergy told Energy Voice.
Based on the information KrisEnergy has made public it appears that the Block A area in the Khmer basin has a combination of poor reservoir quality and limited reservoir extent. This makes development tough as more wells, which have poor flow rates, need to be drilled, substantially increasing costs.
A year ago, KrisEnergy borrowed $87 million from Keppel to drill the wells and build the production platform. In total, KrisEnergy has probably spent close to $200 million to acquire Block A and develop it. Now it seems unlikely that the phase 1A development will be able to recoup this investment.
Adding to its problems, Cambodia's Ministry of Mines and Energy, which owns a 5% stake in the development, warned the company that it would need to offer a satisfactory explanation for the production shortfall or face the consequences, reported the Nikkei Asia.
If KrisEnergy cannot fix the situation, the government could levy a fine or even terminate the company's agreement. Cambodia expects an explanation by end-May at the latest.

ON THE VERGE OF COLLAPSE
Crucially, the underperformance threatens the company's survival. KrisEnergy looks as though they will finally have to be wound up in 2021. This is, in itself not surprising, rather what is surprising is the fact that they have been kept on life-support for so long.
Since 2016, KrisEnergy have been a financial zombie. "As they are such a well-known Singapore company, this continuing death-defying existence has been a major contributor to the fear and avoidance that Singapore investors have with the upstream oil & gas businesses. As a result, for several years now it has been essentially impossible for a small or medium sized oil company to borrow for exploration and production activities in Singapore," a Southeast Asian oil industry veteran told Energy Voice.
The company has utilised over $740 million in equity since their start in 2009. This money is essentially lost. In addition, they now have over $500 million in debt, most of which looks unlikely to get repaid, even if the proposed restructuring were to go ahead. As of now, the unsurprising poor results of the Apsara field in Cambodia mean that the proposed restructuring is likely to collapse. "The shroud has come off the rationale for keeping the company going any longer," said the industry veteran.
KrisEnergy, which went through its first restructuring in late 2016, has only survived because of support from government-backed Keppel and DBS bank. The company has also been under court protection from creditors. "Any normal company would have disappeared years ago. It should have been liquidated between 2016 and 2018," added the source.
Indeed, with the latest blow, it seems almost inevitable that KrisEnergy will be liquidated. "Keppel have dribbled this information into the market in a way that blowback on Keppel is now almost limited. Keppel has a lot of other problems to work through. Three years ago, KrisEnergy was one of their bigger problems, now it's the least of their worries. Their biggest worry now is restructuring their offshore and marine business," said the senior industry executive.
"I don't see how KrisEnergy comes back from this. A lot of money has been spent on Cambodia. It seems unlikely that that Singapore government will essentially continue to prop them up," said the company shareholder.
Over the past year, KrisEnergy has sold several regional assets in an attempt to stay afloat. KrisEnergy has been reporting losses since going public in 2013.
According to its latest filing on the Singapore Stock Exchange, net loss expanded year-on-year to $201.1 million for the financial year ended 31 December 31, 2020 from $168.9 million net loss in 2019.
Revenue fell 64.1% to $45.4 million in 2020 from $126.5 million in 2019 because of lower prices and sales volume.
Total debt stood at $578.8 million, pushing up its gearing to 248.7%.
The company was recently given an extension to its restructure deadline, giving it until April 16 to finalise an arrangement with creditors.