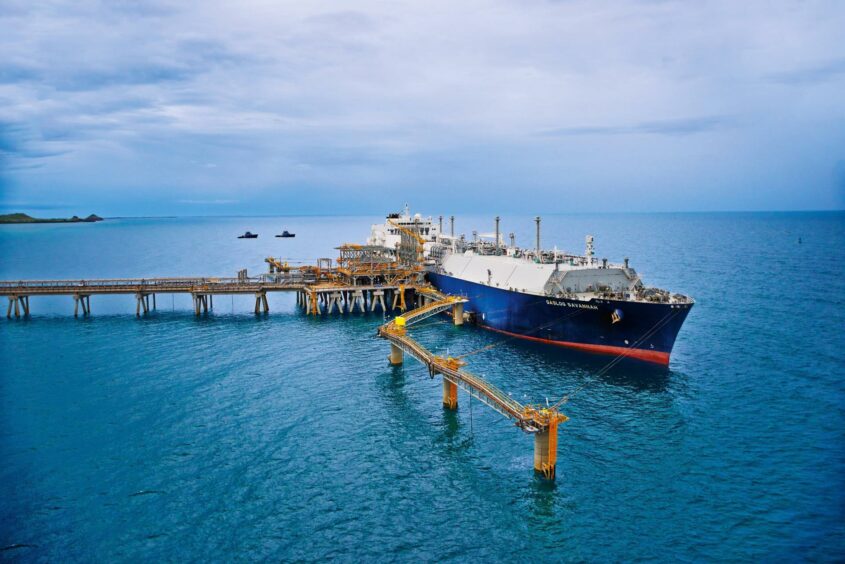 A deal struck between ExxonMobil (NYSE:XOM) and the government of Papua New Guinea (PNG) earlier this year will ensure that the Pacific Island nation will remain a major force in the global market for liquefied natural gas (LNG) for years to come, according to a report by Fitch Solutions. Significantly, the government secured "highly favourable terms."
As Energy Voice reported in February, the pair sealed a gas agreement that provides a clear framework for development of the P'nyang field to backfill existing LNG infrastructure. However, major development activities are unlikely to start before 2027.
"The breakthrough for P'nyang after years of delays is highly bullish for PNG, given its dependence on revenues generated from exporting its hydrocarbon resources," noted Fitch Solutions.
The outlook for LNG continues to be bullish. "In the medium term, geopolitics appear to favour PNG. The forecast ramp up in LNG supply from PNG looks poised to find plenty of willing buyers, mostly from within the region, particularly as Europe attempts to recalibrate their gas trades away from Russian piped gas in the wake of the latter's invasion of Ukraine and deepening sanctions, squeezing the supply available for Asian buyers. Singapore is also expected to lean more heavily on LNG moving forward, so as to mitigate dependence on pipeline gas from its neighbours Indonesia and Malaysia," said Fitch.
"PNG also stands in a good place to leverage China's growing want for alternative LNG sources, more so as it attempts to rein in the over dependence on Australian LNG, and also to offset declining and oftentimes unpredictable flows from Central Asia and Myanmar. PNG's LNG relations with China could deepen over the coming years, as the latter's dependence on gas increases as part of national decarbonisation and clean fuels transition," added Fitch.
China and PNG are believed to have agreed to deepen LNG relations on the sidelines at the Winter Olympics that was held in February, during which Chinese Premier Li Keqiang encouraged Chinese firms to increase investments into PNG's oil and gas sector and expressed interest in off-taking future LNG from Papua LNG and P'nyang expansions, noted Fitch.
Expanding LNG Exports
TotalEnergies (EPA:TTE) is developing its Papua LNG project that will be fed from the Elk-Antelope gas field after the French firm got the go ahead from the government in 2021. As a result, two additional LNG production trains each with 2.7 million tonnes per year (t/y) of capacity will be built between now and 2027, which will nearly double the capacity of the existing PNG LNG facility. P'nyang will add a third additional train which is set to be supplied from the field via new upstream facilities that will be built in the Western Province and connected to the existing export complex.
"The agreement for P'nyang secures highly favourable terms for the government, including a stake-take of profits of 63%, considerably higher than 49% and 51% agreed for PNG LNG and the Papua LNG project, respectively, and a production levy of 3%, also higher than 2% for Papua LNG, and a domestic market obligation (DMO) of 5%," said Fitch.
This is in line with Prime Minister James Marape's insistence on better returns from natural resource project negotiations, as part of his broader promise to 'take back PNG' from the hands of foreign investors. "In addition to a higher share of profits, state oil and gas vehicle Kumul Petroleum will exercise its rights to acquire 32.5% interest in the project. In response, Exxon will reduce its holdings by 12% while interests held by the other project partners Santos and JX Nippon will also be reduced proportionately," noted Fitch.
Santos and Oil Search complete merger consolidating power in PNG
The proposed development timeline for P'nyang is for work to begin following the start of gas production at TotalEnergies-led Papua LNG. The latter is due to come online in 2027. "A final investment decision (FID) for P'nyang immediately after it in 2028, followed by about three to four years of construction activities, will still mean first gas from P'nyang will only materialise after the end of our current forecast period in 2031, even under the most optimistic of scenarios," added Fitch.
P'nyang will underpin a of 2.7 million t/y LNG production train at the PNG LNG complex. "Together with additions to be made from Papua LNG, this will see PNG's LNG export capacity increase by some 117% between the two projects, ensuring PNG remains a major force in the global LNG market for years to come. In fact, among Asia's five net LNG exporters, PNG is set to see the strongest average annual growth in gas production over the next decade, while growths in others stabilise in the lower single-digits or even begin to decline," said Fitch.
Recommended for you

Opportunities abound for energy M&A deals in Asia Pacific