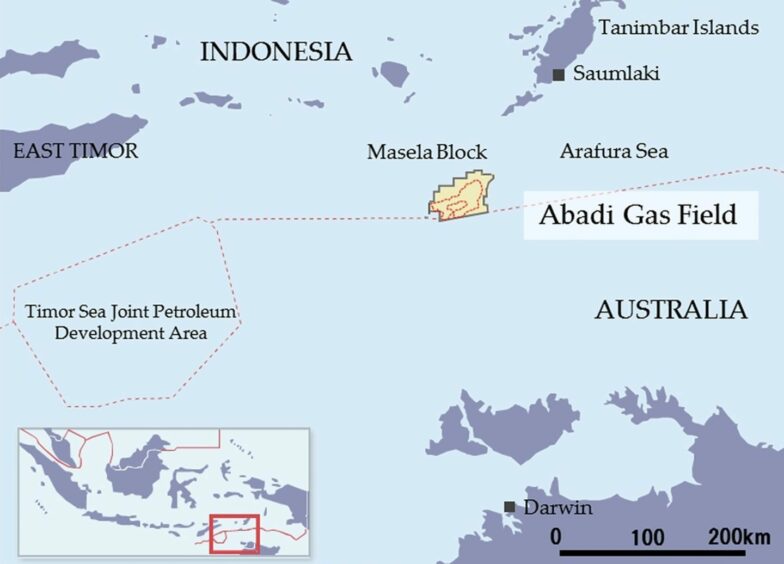 Shell has finally agreed the sale of its 35% stake in the Masela licence, offshore Indonesia, which holds the Abadi gas project.
Indonesia's Pertamina Hulu Energy and Petronas Masela will buy the stake from Shell Upstream Overseas Services (SUOS). Shell will receive $325 million with another contingent payment of $325mn due on a final investment decision (FID).
Petronas will take a 15% stake in Masela, while Pertamina will have 20%.
The sale has an effective date of January 1, 2023. Shell has said it expects to complete the sale this quarter. It will require approval from Indonesia's Ministry of Energy and Mineral Resources.
Shell had backed a plan to install a major floating LNG (FLNG) project on the Masela licence but the Indonesian government rejected the proposal. Indonesia would prefer an onshore facility, which would generate more domestic employment.
Abadi is around 150 km offshore
"The decision to sell our participation in the Masela PSC is in line with our focus on disciplined capital allocation," said Zoë Yujnovich, Shell's Integrated Gas and Upstream Director.
"We wish to thank all stakeholders, especially the government of Indonesia for their support throughout the sales process. Shell remains active in Indonesia and continues to contribute to the country's energy transition journey."
Petronas president and CEO Tan Sri Tengku Muhammad Taufik said the acquisition "marks a significant milestone in Petronas' portfolio expansion in Indonesia. Our participation underscores the commitment in supporting Indonesia's production target to achieve one million barrels of oil per day and 12 billion standard cubic feet per day of gas by 2030."
Japan's Inpex has the outstanding 65% in the Masela production-sharing contract (PSC) and is also the operator. Shell acquired its stake in Masela in 2011.
The proposed onshore LNG plant would have 9.5 million tonnes per year of capacity. It would also include a carbon capture and storage (CCS) facility. Inpex has forecast it may begin producing LNG at Abadi in the early 2030s.
Recommended for you

Eni takes control of IDD, while Chevron focuses on low carbon options