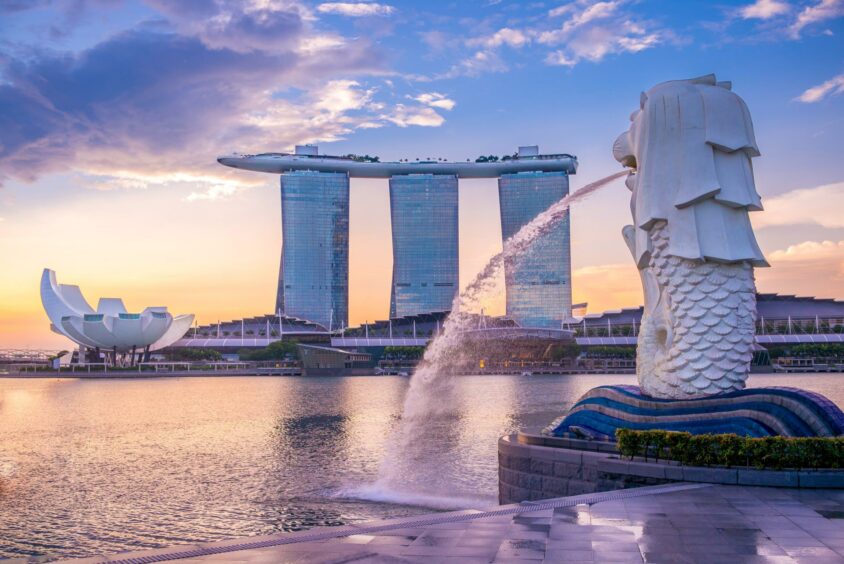 Singapore is considering ways in which to retool its energy market, to ensure energy security and decarbonise, Minister for Trade and Industry Gan Kim Yong has said.
The minister was giving a lecture on the opening day of Singapore International Energy Week.
"Singapore is committed to this global decarbonisation effort," the minister said. Power generation accounts for around 40% of the state's carbon emissions.
Of Singapore's power, 95% comes from natural gas. The current gas procurement framework "which relies on individual power generation companies' procurement strategies, does not provide assurance that the system as a whole, will have enough gas to meet our needs during a crisis when market conditions are uncertain."
As a result, Singapore is rethinking its approach on gas procurement. It will aim to aggregate demand from power companies and centralise procurement.
Such a move should allow the country to secure better terms, avoid concentration risk and provide more stable prices, Gan said.
"This is a fundamental shift in our approach towards gas procurement, but we believe that this is necessary to create a more stable and secure power system that will ultimately benefit the consumers and also the gencos themselves," he explained.
Transition
The state is also working on how best to support low-carbon technologies. Renewable energy, for instance, is "capex heavy" but with low operating costs, while hydrogen would be like gas-fired generation.
"Given this, we will need to review market mechanisms to provide investors with sufficient visibility and certainty, while ensuring that competition remains effective and fit for purpose," the minister said.
Domestic solar energy will play a part, but Singapore will need to import low carbon energy supplies.
In December, Singapore agencies launched an invitation for a small-scale project, which would use ammonia for power generation and bunkering. There were 26 proposals and Gan announced six groups had been shortlisted. They will participate in the next step, a request for proposal (RfP).
Singapore has also launched studies on geothermal and biofuels. The Energy Market Authority (EMA) issued an RfP for a geophysical study of the country's geothermal potential in September. Bids are due by December 8.
Nuclear remains an unknown. Gan said new nuclear technologies was interesting and potentially cost competitive, particularly in small modular reactors (SMRs).
Sembcorp
One company aiming to play its part in Singapore's aspirations is Sembcorp. The company said it had signed a non-binding memorandum of understanding (MoU) with IHI Corp. and GE Vernova. The group would aim to retrofit Sembcorp's Sakra power plant, in Singapore, with the ability to use ammonia.
Koh Chiap Khiong, CEO, Singapore & Southeast Asia, Sembcorp Industries, said the plant had been Singapore's largest and most efficient cogeneration plant in 2001 when it launched.
"We are now taking the next step to support decarbonisation efforts through the potential retrofitting of the power plant with ammonia-firing capabilities," the executive said.
Sembcorp also said Singapore had approved a plan to import 1.2 GW of power from offshore wind plants in Vietnam. These could start up as soon as 2033, it said.
Singapore's EMA has set out a plan to import up to 4 GW of low carbon electricity by 2035. Earlier this year, the agency permitted imports of up to 3 GW from Indonesia and Cambodia.
Recommended for you

Saltend Chemicals Park to adopt low carbon gas substitute