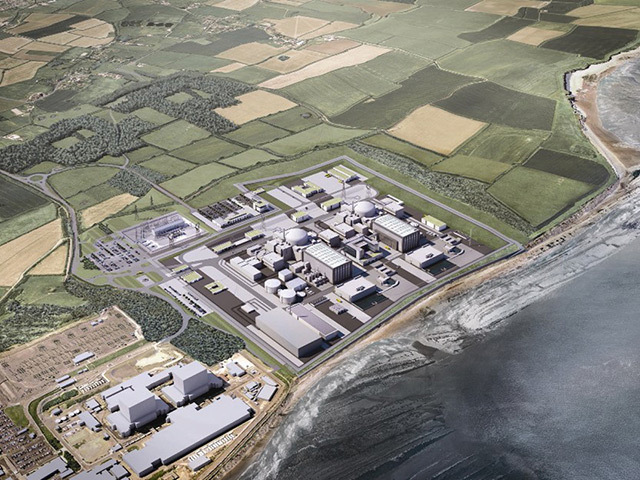 The U.K. government must lay out specific options to fill a looming energy shortfall after Electricite de France SA delayed a decision last week on whether to build Britain's first nuclear power plant in 30 years, the opposition Labour Party said.
EDF pushed back for several months a final investment decision on the 18 billion-pound ($26 billion) plan to build two reactors at Hinkley Point in southwest England. Executives as recently as last month promised a decision in May, and the latest delay adds to doubts surrounding a project that was originally planned for 2017 and is now scheduled to start generating in 2025.
"We've been hit by delay after delay and we're in Plan B territory at the moment," Lisa Nandy, Labour's energy spokeswoman, said in an interview in her office in Parliament. "It still potentially has an important role to play for security of supply and low-carbon energy, but the question is what happens in the meantime."
The government is trying to keep the lights on after pledging to close all coal plants by 2025 and as aging nuclear plants shut down. Guaranteed payments to ensure generators maintain the necessary capacity to supply power demand have so far failed to spur new gas plants, and ministers have cut aid to renewables. The squeeze on supplies led National Grid Plc in November to issue its first warning of insufficient backup since 2012.
Waning Support
Public support for Hinkley has fallen, with 33 percent favoring the project, according to a YouGov Plc poll on Tuesday for New Nuclear Watch Europe, a pro-nuclear industry group. That's down from 57 percent in 2013. Those opposing the project rose to 22 percent from 15 percent. The poll of 2,049 adults also found that half said French companies shouldn't be allowed to build and operate a U.K. nuclear power station, and 67 percent opposed Chinese involvement.
That drop in support "will compound the financial and technical challenges already faced by the Hinkley Point C project," said New Nuclear Watch Europe Chairman Tim Yeo. "Ministers need to tackle public concerns about foreign investment in U.K. infrastructure head on or face a backlash."
Price Guarantee
EDF's Hinkley plans, in partnership with China General Nuclear Power Corp., have already secured a guaranteed power price at almost three times current power prices for 35 years and won a 2 billion-pound government loan guarantee. Even so, union representatives on the utility's board have called for the project to be canceled and Chief Financial Officer Thomas Piquemal resigned last month after his plea to postpone a decision was rejected.
Energy Secretary Amber Rudd wrote to Parliament's Energy & Climate Change Committee this month, saying the so-called capacity market is the government's main tool to avoid any shortfall in generation caused by any delay to Hinkley. At the same time, she acknowledged a delay might harm U.K. efforts to reduce carbon emissions.
'Astonishing Position'
"The letter that Amber Rudd put out last week was really concerning, because essentially she was arguing that the government's plan B would be to find a way to meet security of supply by abandoning the climate-change commitments," Nandy said. "That would be an astonishing position to be in just a few months after we signed the Paris Agreement."
Nandy also said:
While research money pledged by the government for small modular nuclear plants is "really welcome," the government must explore other nuclear technologies too. Onshore wind and offshore wind have a "significant role" to play. It's "crystal clear" the world is on a pathway away from fossil fuels. The government should plan for that and start equipping high-school children with skills they'll need to help develop the technologies of the future. Tidal power is "potentially very significant" and could help revive the economy of South Wales. The government needs a new plan for carbon capture and storage after it "pulled the rug out" by canceling a competition to develop the technology.
"The key thing is to make sure that you are looking long-term, because at the moment government policy, particularly in energy, is characterized by short-term thinking," Nandy said. "Any responsible government would be thinking about what plan B would look like, not just writing to committees saying 'there IS a plan B;' but actually setting out a series of options."
Recommended for you

Business sec says building nuclear power may increase energy bills