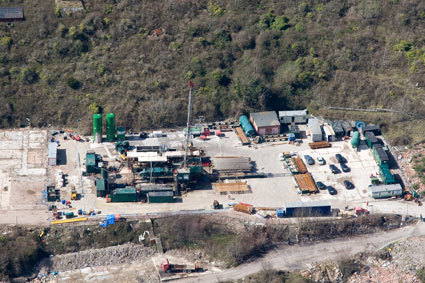 The company behind one of the Northern Ireland's most significant oil and gas projects said it continues to progress with its drilling programme at Woodburn Forest while a County Antrim council brought to court over the project prepares to make a decision.
Media reported Mid and East Antrim Borough Council is the subject of the legal challenge with a case brought to court by a local resident.
It is understood a decision about the complaints will be made published by Tuesday.
InfraStrata said that a further request by the individual to seek an injunction to stop the drilling "has not been pursued" and that will continue with its drilling programme, updating the market as and when required.
"The company has no further information on the matter at this stage, although it is aware of ongoing protest regarding the site.
"The local authority and other agencies have been and are addressing complaints from the individual and protesters regarding the company's operations on the site and the company has provided all possible co-operation in that respect.
"InfraStrata has all of the required statutory approvals and consents to drill the well and will continue to comply with these and ensure that the operations are safe and the environment is protected," it said in a statement.
Woodburn Forest will be developed using conventional exploration. Infrastrata has promised the project will not now or in the future, involve the process of hydraulic fracturing. Consent to drill has granted by Department of Enterprise, Trade and Investment.
Reports stated Stop the Drill campaigners are seeking an injunction to stop InfraStrata from going ahead with exploratory oil drilling close to a reservoir that supplies drinking water to thousands of homes.
Baron Oil PLC, which stands to earn a 10% interest in the PL1/10 licence following a farmout agreement announced in January, said the drilling of the well is expected to commence in May.