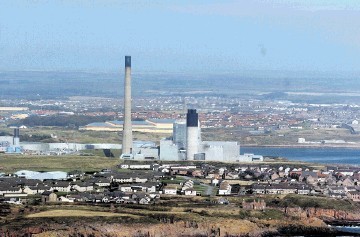 Development body Aberdeen City and Shire Economic Future (Acsef) today added its backing to plans for a carbon-capture and storage (CCS) plant at Peterhead Power Station.
Acsef chairman Colin Crosby said: "It will be the first of its kind in the world and we are delighted it will be based in the north-east.
"It means Aberdeen city and shire can become even more of a global centre for hydrocarbon innovation and technology.
"It is testament to the incredible level of expertise and innovation we have in the local area and shows how we can continually adapt to deliver solutions to major challenges."
Acsef's comments follow  following yesterday's decision by Aberdeenshire councillors to approve onshore elements of the scheme.
One councillor labelled the project a "short-term" solution to climate change.
The council's only Scottish Green member, Martin Ford, called for CCS to be discussed in more detail before any decision was made.
But Peterhead councillor Alan Gardiner welcomed the prospect of the town "leading in this new technology".
Mr Gardiner added: "This is a fantastic opportunity for the area. We have an opportunity here to hopefully provide something that could be world-leading."
CCS allows for up to 90% of carbon dioxide (CO2) emissions produced from fossil fuels to be put back into depleted offshore oil and gas wells.
CO2 captured at Peterhead Power Station will find its way into the Goldeneye gas reservoir in the North Sea.
The council's head of planning and building standards, Robert Gray, said the proposals were the first of their kind "in the UK".
He added: "The importance of it is that Peterhead becomes a demonstration to the rest of the country.
"We have had no objections from the community."
Shell's project leader for the scheme – Bill Spence – said the backing of the council "means everything" to his team.
He added: "This project would create jobs, put existing industry skills and infrastructure to good use and demonstrate a technology critical for decarbonising the power sector."
Recommended for you

Scottish floating wind, CCS expertise showcased in Dubai trade mission