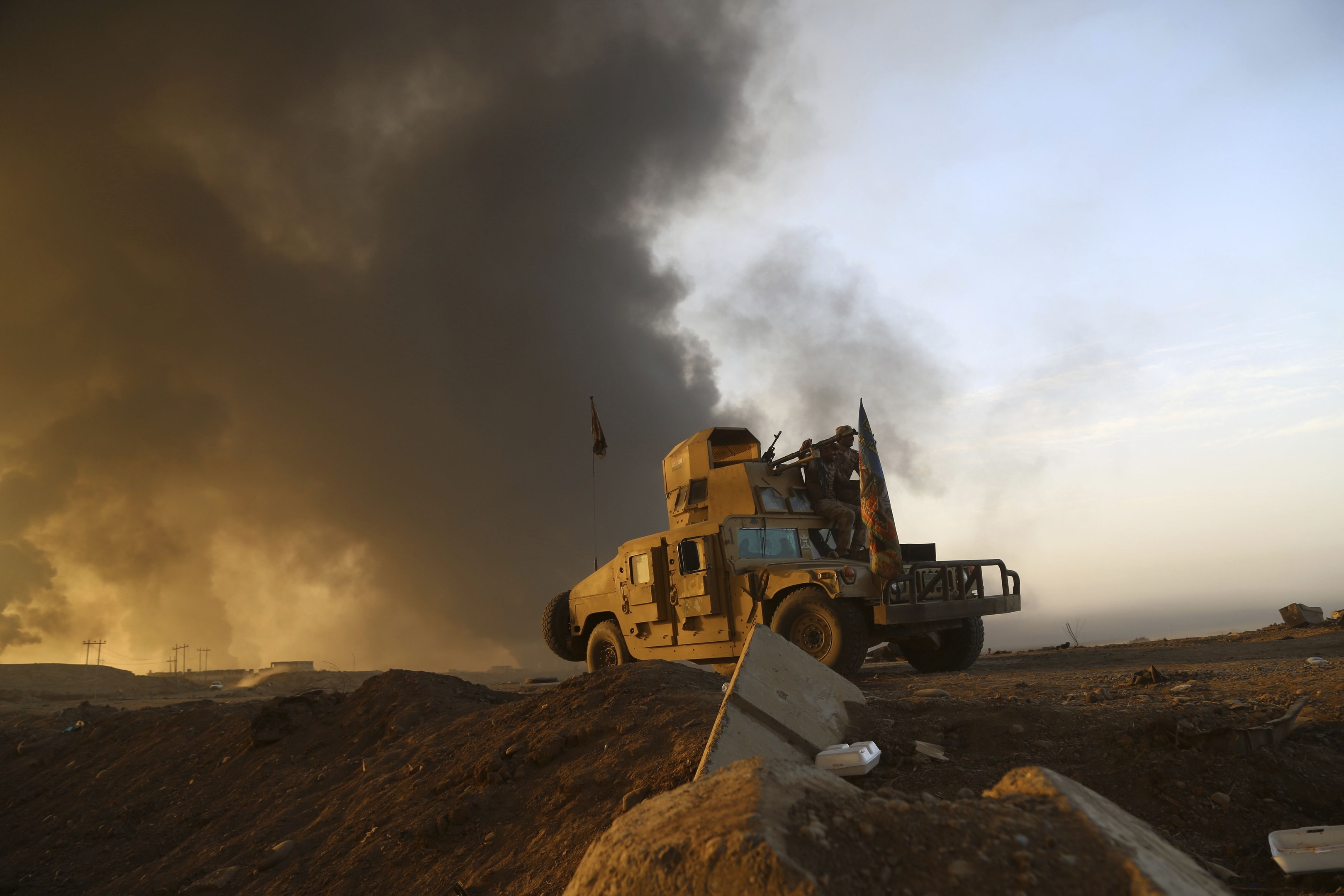 The pace of the fight to retake Mosul from the Islamic State group has slowed as Iraqi forces advancing to the east and south of the city began pushing towards larger villages and encountering civilian populations.
Iraq's Kurdish fighters, also known as the peshmerga, largely paused their advance, according to commanders stationed along the front to Mosul's east, consolidating gains from the previous day.
Iraqi army forces advanced to the south and east of Mosul, reaching the outskirts of al-Hamdaniyah, a historically Christian town also known as Bakhdida and Qaraqosh that was once home to tens of thousands, east of Mosul.
On the southern front, Iraq's federal police pushed foward up to the town of al-Houd, still home to hundreds of people, according to estimates from the United Nations.
Lt Col Mohammed Shaker said al-Hamdaniyah had been surrounded and his forces had retaken six other villages over the past two days.
More than 25,000 troops have mobilised for the Mosul fight, a massive operation expected to take weeks, if not months.
Iraq's second largest city is still home to more than a million people and humanitarian groups have warned that up to a million could be forced to flee, unleashing a large-scale humanitarian crisis.
"The operation is going according to schedule and we have been very successful," said Iraqi army major general Qassim Al-Maliki. "The enemy is pulling back but they are leaving small mobile units behind, each composed of three to four persons, and we are mopping them up."
Isis radicals have resorted setting fire wells as part of a scorched earth tactics.
On Monday, Kurdish forces had retaken some 80 square miles, according to Massoud Barzani, president of Iraq's largely autonomous Kurdish region.
Peshmerga commanders on the ground estimated they retook nine villages and pushed the front line with IS back five miles. The front line east of Mosul is now some 20 miles from the city.
On Tuesday, those front lines were largely quiet, a day after Iraqi Kurdish forces advanced amid a barrage of US-led air strikes and heavy artillery.
"We are just holding our positions," said Colonel Khathar Sheikhan of the peshmerga. "The Iraqi army will now advance past our arenas of control.
"We have achieved our objectives."
In Washington, US president Barack Obama said retaking Mosul would require a "difficult fight".
He said there would be advances and setbacks, but that driving IS from the city "will be another step toward their ultimate destruction".
Speaking at the White House alongside Italian prime minister Matteo Renzi, Mr Obama said a top priority was the safety and humanitarian aid for the one million people who still live in Mosul and could suffer during the fighting.
A spokesman for the US-led coalition had earlier said the operation was proceeding as planned and that Iraqi forces were making "excellent progress".
"There's no pause in efforts to liberate Mosul. Troops are on the move on various axes of advance toward the city," said Col John Dorrian. "Some commanders have reached their objectives ahead of schedule after encountering light-to-moderate resistance."
A Pentagon spokesman said more than 100 US troops were embedded with Iraqi forces, including the peshmerga, as they advanced towards Mosul.
Meanwhile, in Baghdad, thousands of followers of an Iraqi Shiite cleric marched in front of the Turkish embassy, demanding the withdrawal of Turkish troops from a base near Mosul.
Turkey says the troops are training Iraqi fighters to help retake Mosul and that they are there with the permission of the Iraqi government.
Baghdad denies it granted permission and has ordered the Turks to withdraw – a call Ankara has ignored.
The spat has raised concerns that the defeat of IS could lead to renewed conflict among the various fighting units currently allied against it.
Turkish prime minister Binali Yildirim said the fighters, who were trained at the Bashiqa camp near Mosul, were at the forefront of the Mosul operation, fighting alongside Kurdish forces.
"Those who say Turkey has no business in Mosul have gotten their answer," he said.
Recommended for you
X

Technip lands deal in Russia