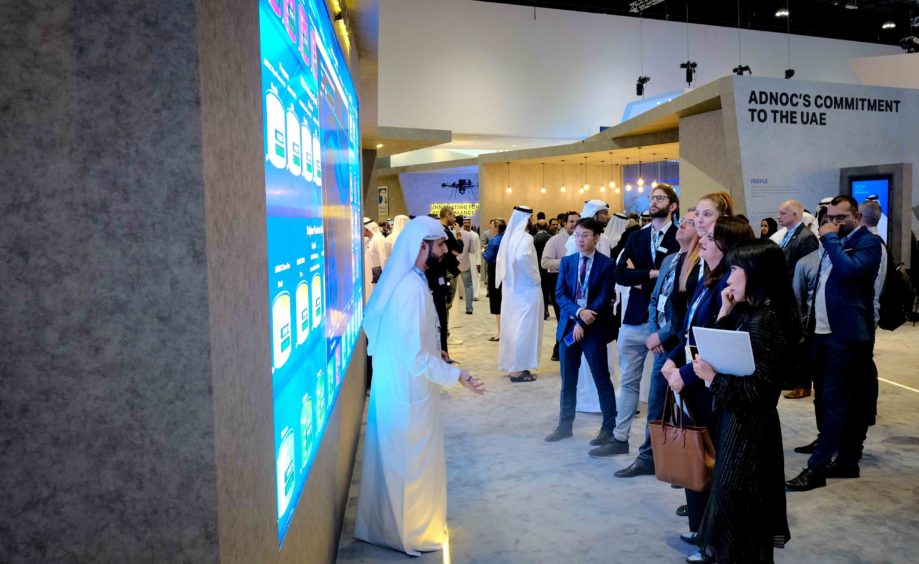 A thorough understanding of the present is essential for ADNOC to make plans for the future, the company's senior vice president for digital Abdul Nasser Al Mughairbi told Energy Voice on the sidelines of the ADIPEC conference.
ADNOC launched its Panorama command centre in response to the vision of its CEO Sultan Al Jaber, citing the "fourth industrial revolution", which charts the next step for people and machines. "We have to change the way we work. We cannot control the price of oil, but we can control our destiny, we can control the way we do things and we have to be responsible. So go figure it out," Al Mughairbi related Al Jaber as saying.
Panorama was launched in November 2018, at the same time as ADNOC launched its Oil and Gas 4.0 strategy.
The response was Panorama. Previously, a desire for any information about the company came with a number of qualifying statements, Al Mughairbi continued. The creation of the digital centre made it possible to do analytics and therefore "help the old business, improve the way we do business and support the decision-making process", he said.
The command centre covers 64 sites, with information coming in real time, "almost half a million data points stream into Panorama on dashboards so you can see, in real time, what is happening in every single facility".
At the heart of machine learning is a need for data. Following analysis of data sets, this allows improved forecasting of the future.
"When I want to do an analysis, I don't have to go to the site, I can do piloting, I can do testing. What we get is one of the largest platforms for predictive maintenance," the official continued. "When we put all our compressors and all our plants into the system it tells us the future breaking point one or two months in advance, allowing us to avoid unexpected shutdowns, we can plan it … so maybe there aren't any catastrophic failures."
This predictive ability allows the company to shift from time-based maintenance to predictive, that gives a "10-15% reduction in maintenance costs". The innovation has come cheaply, Al Mughairbi said, with a small team of 25 people. "We work with contractors and partners, we develop some things in house, but the value we generate is hundred times more than the cost. That is a good balance."
The company has invested in technology over the last 40 years. The Panorama system links everything together and there are plans for further expansion.
One challenge ADNOC has found is that there is a "lot of hype" in the market about what contractors claim to offer that is not realistic. "Everybody now wants to do AI, everybody wants algorithms, but you can go on Google and find ready-made Python algorithms that you can download and use. It's open source, everybody can do it."
Al Mughairbi was eager to counsel other governments to bring data into one location. "Start visualising in real time what you're doing, how your company's working with all your processes. Because that will give you insights. Gathering everything in one location and looking at it together really creates a paradigm shift."
The top problem facing the industry, he continued, is not technology, rather it is "adapting that technology, changing the way we work. That's the hardest. Changing people is much harder than changing a processor."
Not every experiment has worked out, with some technologies failing to add value, the ADNOC official said. One that has is the use of blockchain to keep track of its intra-company accounting. Blockchain allows the use of smart contracts, Al Mughairbi said, which render visibility and transparency.
"We are 14 companies [within the ADNOC group] that buy and sell products from each other," Al Mughairbi said. "We have internal accounting systems and this process goes through multiple systems, it starts at the meter, which is read monthly, there's a reconcilement, numbers are sent on, payment follows. Putting this on the blockchain makes it secure, it can't be duplicated or deleted, it gives you transparency and it's in real time." This level of transparency goes further to attracting investments in the country, the official said.
Abu Dhabi's advances on the digitalisation front are helping drive further investments, with Microsoft announcing during the event that it would open an AI Centre of Excellence for Energy in the state, in early 2020.
Recommended for you

Adnoc stakes its claim to meet the world's energy needs