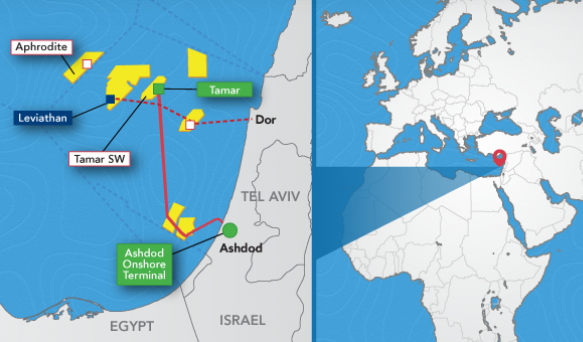 A decade after its discovery was lauded as a guarantor of Israel's energy security, the giant Leviathan natural-gas field started production Tuesday. But instead of anticipating a coal-free future, residents living near the gas platform have abandoned their homes for a day.
They fear the gas production platform built just 6 miles (9.6 kilometers) from shore will release pollutants just as toxic, or more so, than those released by coal, especially as the wells come on line in the current start-up stage.
Orchestrating what will be a convoy into Tel Aviv and a demonstration with gas masks in front of government buildings is the grassroots Israeli Homeland Guards, supported in its protest by Greenpeace Israel, and at least three other Israeli environmentalist groups.
"We don't want to play Russian roulette with our children's health," said Shlomit Valensi, a Homeland Guards member who lives in Dor, a beachfront community adjoining a nature reserve about 15 miles (24 kilometers) south of Haifa. A spokesman for the protesters, Lior Zivan, said thousands of people left their homes.
'Positive' Impact
The Israeli government and companies in the Leviathan partnership — Texas-based Noble Energy Inc., Delek Group Ltd. and Ratio Oil Exploration 1992 LP — insist operations are safe, though documents they submitted to the Environment Ministry indicate pollution may be in higher concentration during the initial phase when flaring can't be used. The worst-case scenario is that during the two separate days of starting up four wells, the emission level will be similar to that expected in an entire year of normal operations.
Still, the partnership says that in reality there will likely be only one or two hours of emissions of methane, a major contributor to global warming, and of the known carcinogen benzene, whose level in the air will remain well below limits set by Israel's Clean Air Act.
"The only environmental impact this platform will have on the shore is a positive one when the natural gas we supply displaces coal in Hadera and Ashkelon and Israel's citizens benefit from improved air quality and better health," said Bini Zomer, Noble Energy's vice president for regional affairs.
Environment Minister Zeev Elkin has tried to placate mayors of seven of the towns most likely to be affected by platform pollution. "There is no truth to the irresponsible calls for residents to evacuate when the platform commissioning starts," he told them earlier this month. However, the ministry afterward delayed the start of operations by a week, saying strict pollution-monitoring conditions hadn't been met.
Monitoring equipment was installed on the platform to alert any risk of high pollution, but the Homeland Guards went ahead with their protest, saying they needed to see how scrupulously it will be used before giving their seal of approval.
Gas Exports
Ever since the 2009 discovery of the two natural gas fields Leviathan and Tamar — the latter started operations in March 2013 — Israel has looked toward not just energy independence and cleaner domestic sources, but a broader regional influence.
Israel and Turkey ended a years-long diplomatic dispute in 2016 in part due to a mutual interest in gas deals. More recently, Israel has announced contracts with neighboring Jordan and Egypt.
The Israeli Homeland Guards say they back development of the country's gas industry but want to ensure public health isn't compromised. The group cites local and world-renowned experts whose models show the platform's proximity to shore may be reason for concern.
The former head of Israel's National Cancer Registry, who thinks that under normal operations the gas platform is safe, said in an opinion commissioned by the movement that the start-up stage may expose the public to a dangerous amount of carcinogens.
Gas and oil companies have clashed with regulators over pollution in the past. In 2015, Noble settled with the U.S. Environment Protection Agency, the Department of Justice and the state of Colorado over violations relating to emissions from its oil and gas operations.
Israel's environment minister isn't worried, and has promised to monitor air quality closely. The platform will be shut down if there's "an increase in air pollution that is endangering the population," Elkin said.
Recommended for you

Stephen Flynn hints Cambo oil field would help Scotland's 'energy security'