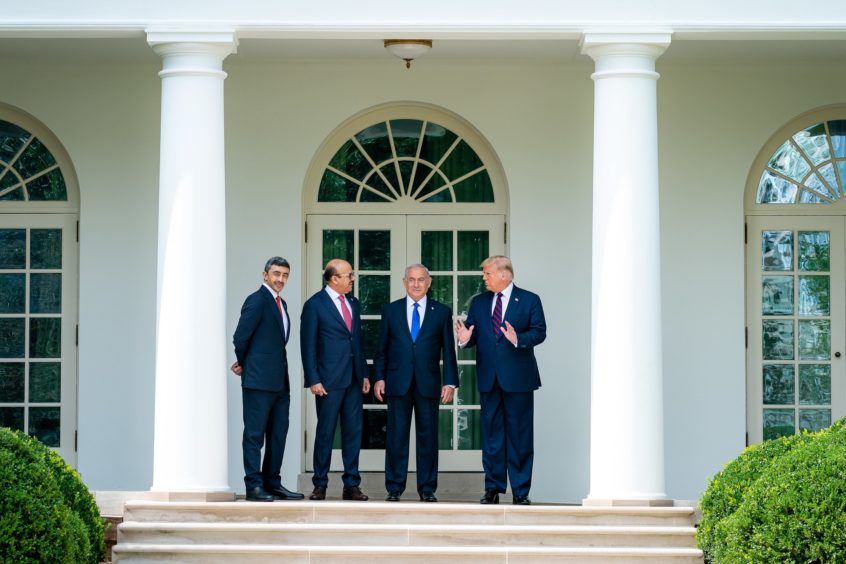 Israel, the United Arab Emirates and Bahrain have signed a peace agreement that marks a step towards normalising diplomatic relationships in the Middle East.
Israeli Prime Minister Benjamin Netanyahu hailed the "Abraham accords" as heralding a "new dawn of peace".
The agreement marks a number of steps for the countries to work together. The three states agreed a "need to promote renewable energy, co-operation in the natural gas field, regional grids, alternative energy and energy security".
The annex said the countries would share best practices on how best to promote and unlock the region's energy potential. The parties will co-ordinate with the International Renewable Energy Agency (IRENA), which is headquartered in Abu Dhabi, "where appropriate".
The agreement also provides scope for vessels from other parties to the deal to pass through territorial waters. The three states agreed that they would grant normal access to ports for each others vessels.
The countries will conclude agreements on maritime affairs as required, it said.
The deal follows the initial arrangement between Israel and the UAE, reached on August 13.
A first thaw in relations between Israel and the UAE came in 2015. At that time, Israel opened a permanent mission at IRENA.
The agreements also made commitments to protecting the environment. The three states agreed they might establish a centre for "developing pioneering solutions to climate challenges in arid and semi-arid environments".
Netanyahu went on to say the Abraham accords paved the way to end the Arab-Israeli conflict. Security issues appear to have played a part in the talks. The UAE is interested in buying F-35 jets from the US.
US President Donald Trump appeared to endorse such a sale. Israel has previously defended its technological edge in weapons.
Recommended for you

Security risks abound for MENA oil supply