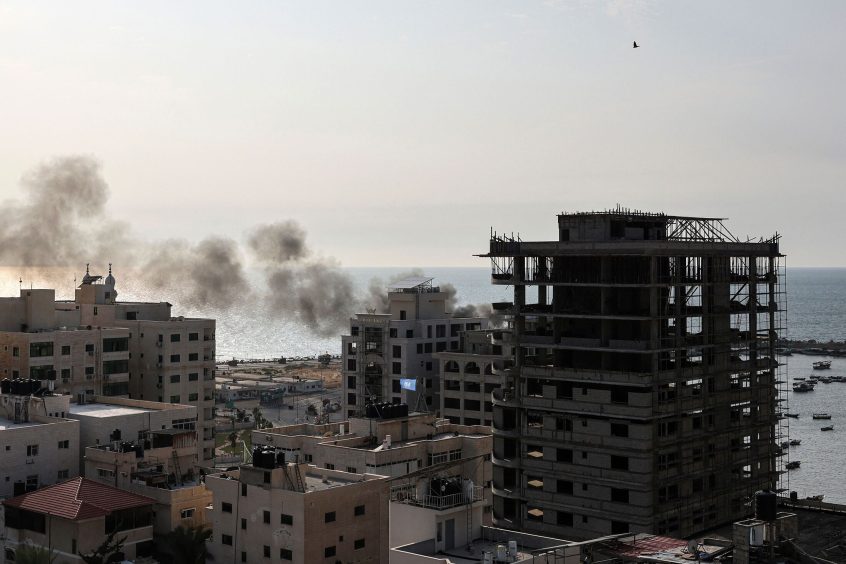 Oil surged as much as 5% after the broadest and bloodiest attack on Israel in decades threatened to inflame tensions in the Middle East, the source of around a third of the world's crude.
West Texas Intermediate traded near $86 a barrel as a war-risk premium returned to markets. The death toll on both sides following Hamas' strikes against Israel over the weekend topped 1,100 as fighting headed into a third day, while the US said it was sending warships to the region.
The latest events in Israel don't pose an immediate threat to oil flows, but there's a risk the conflict could spiral into a more devastating proxy war, embroiling the US and Iran.
Any retaliation against Tehran amid reports it was involved in the attacks could endanger the passage of vessels through the Strait of Hormuz, a vital conduit that Iran has previously threatened to close.
"While the worst-case scenario of a regional war has to be kept in view, it's not my base case," said Vandana Hari, founder of Singapore-based analysis firm Vanda Insights. "Restraint and calmer minds will prevail as there will be only losers all-round in a wider war."
WTI and global benchmark Brent futures had plummeted this month — dropping by around $10 a barrel before the attack on Israel — as worries about high interest rates and slowing growth clouded the demand outlook. Those fears overshadowed bullishness that spurred a sharp rally in the third quarter as physical balances tightened due to prolonged Saudi-led crude output cuts.
The Israel-Hamas war reduces expectations Saudi Arabia will cut or eliminate its 1 million barrels a day of output curbs, Citigroup Inc. analysts Ed Morse and Eric Lee said in a note. Risks are also growing that Israel will attack Iran, they said.
The attacks come after months of easing tension between Washington and Tehran, with crude shipments from Iran rebounding to a five-year high with America's tacit blessing. In an extreme scenario, Iran could retaliate and take aim at the Strait of Hormuz, should the Islamic Republic find itself in a corner. The waterway is essential for the movement of nearly 17 million barrels of crude and condensate each day.
"If Israel comes out and directly implicates Iran, we believe it will likely be difficult for the Biden administration to continue to adopt such a permissive sanctions regime," RBC Capital Markets analyst including Helima Croft said in a note. "We anticipate that critics in Congress and elsewhere will contend that the White House is providing Iran with the financial wherewithal to sponsor such malign actors."
The weekend's events were reflected in oil's futures curve, although the moves weren't dramatic. WTI's prompt timespread moved to $1.75 a barrel in backwardation, a bullish market structure that signals nervousness over supply, from $1.51 on Friday.
"The lack of movement in WTI timespreads suggests there's little change in supply-demand fundamentals at the moment," said Warren Patterson, head of commodities strategy at ING Groep NV. "Uncertainty over how the situation evolves is likely to support prices."
Recommended for you

Worst-case war scenario could mean $140 oil, says Allianz Trade