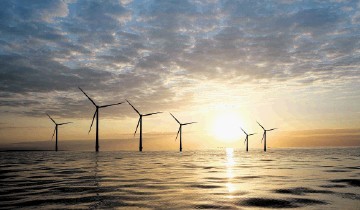 The Swedish firm behind the proposed windfarm off the coast of the Trump International golf resort at Menie, near Aberdeen, has reported a third consecutive year of losses.
Stockholm-based Vattenfall said yesterday it suffered record net losses of £1.6billion last year, compared with losses of £672million in 2014, after low power prices and impairments hurt Scandinavia's biggest power generator.
Pre-tax losses for 2015 came in at £2.29billion, against losses of £668million previously.
Chief executive Magnus Hall said: "Continued falling electricity prices and a nuclear tax … have put Swedish nuclear power in a critical situation."
Impairments rose to £2.17billion, from £1.95billion previously, with nearly half of that stemming from Vattenfall's decision to close two nuclear reactors.
The company has also been hit by the depreciation of coal assets in Germany, which is trying to reduce energy production with high carbon dioxide emissions.
Nordic utilities were hurt by a fall in power prices to 15-year lows last year due partly to warm weather and rising output from renewable-energy.
Earnings were also hit by a nuclear tax in Sweden that for Vattenfall accounted for 20% of its costs, Mr Hall said.
Vattenfall – a partner in the European Offshore Wind Development Centre planned for Aberdeen Bay – said 2015 underlying operating profits totalled £1.67billion, down from £1.96billion the year before, on a slight fall in net sales to £13.3billion.
Recommended for you

Aberdeen Offshore Wind Farm reports 2020 profits of £16m