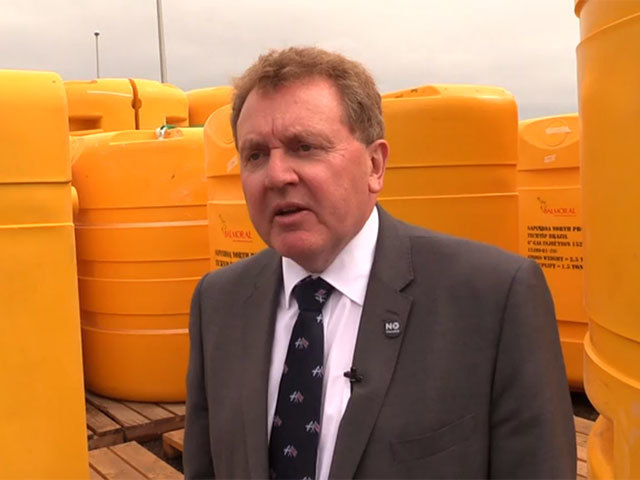 Scottish Secretary David Mundell will travel to the US oil and gas capital next week to promote the expertise of the North Sea.
The Tory minister will be in Texas as part of a drive to attract investment in the sector.
It follows a similar trip by Andy Samuel, Oil and Gas Authority chief executive, last month.
At a series of meetings with businesses and educators, Mr Mundell will aim to forge new relationships to help the industry through the downturn.
The visit will build on work earlier this year to establish economic and training links with emerging gas centre Pemba in Mozambique.
Mr Mundell said he was determined to do all he could to promote the north-east of Scotland and the oil and gas sector, including using the network of embassies and high commissions to "bang the drum" on a global stage.
He added: "It is vital that we take action now which will help in the short, medium and long terms – building a bridge to the future of the North Sea and helping the UK's oil and gas industry to export its world-class expertise around the globe.
"I will build on relationships that can benefit both countries at a time of uncertainty in the oil and gas industry's history."
He bemoaned the news Shell is to cut 475 jobs in the North Sea, with most of the losses at its headquarters in Aberdeen.
Mr Mundell said: "The UK Government will do all we can to support the workers and the industry as a whole."
As the announcement surfaced Aberdeen South MP Callum McCaig wrote to Energy Secretary Amber Rudd calling on her to meet him in his constituency.
In the letter he said: "I implore you to recognise the difficulties facing hundreds of families in Aberdeen by meeting with me in my constituency to hear first-hand accounts of the impact these job losses are having."
During the Texas trip, Mr Mundell will meet the Mayor of Dallas and various energy CEOs.
Also on the agenda is a tour of the BP Maersk training facility where he will highlight Scotland's expertise in offshore health and safety.
Additionally, he will be helping to form educational science, technology, engineering and maths (STEM) exchanges between Scotland and the US.
Recommended for you

North Sea infrastructure could get fresh lease on life with hydrogen production