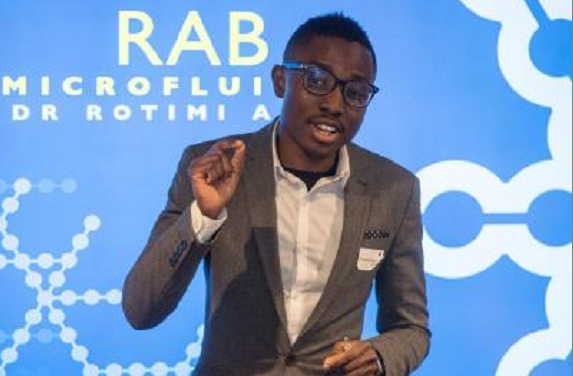 A University of Aberdeen graduate who has turned his PhD into a business idea has been awarded a prestigious Enterprise Fellowship by the Royal Society of Edinburgh.
The Fellowship, worth £90,000, will provide Rotimi Alabi with support to develop RAB-Microfluidics, a company he formed with support from the university. The start-up offers oil analysis to businesses through "lab-on-a-chip" technology that aims to dramatically reduce maintenance and repair costs for heavy equipment.
Mr Rotimi, who is from Nigeria, developed the idea while working on his PhD alongside Dr Stephen Bowden and Professor John Parnell, from the university's school of geosciences.
Their work on the application of microfluidics to oil analysis – a relatively new area of research – led to the development of a chip capable of carrying out mobile online oil measurements.
With oil analysis usually carried out in a lab, the development of the lab-on-a-chip sparked a business idea that led Mr Rotimi to contact the university's research and innovation department, which provided expertise that helped him create RAB-Microfluidics.
Now based at the university's ABVenture Zone, which provides support and state-of-the -art office facilities for start-ups through the accelerate aberdeen programme, RAB-Microfluidics is poised to begin its transformation into a fully-fledged business.
The Enterprise Fellowship will provide Mr Rotimi with a year's salary and expert support to grow his business.
This builds on existing grant funding for RAB-Microfluidics from the Oil and Gas Innovation Centre (Ogic) and Energy Technology Partnership, worth £65,000.
Describing his product as "potentially revolutionary", Mr Rotimi, said: "We have the expertise and we have the vision and the ambition to revolutionise the way testing and analysis is done on oil.
"To get to the point where we can provide a portable device that can take measurements will take another 12 months and around £500,000, but I'm optimistic we can achieve this. When we have the product then a new journey will begin."