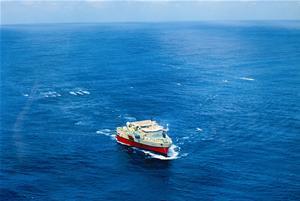 The head of Norway's Petroleum Geo-Services (PGS) is to stand down.
President and chief executive officer Jon Erik Reinhardsen, 60, is to retire this autumn.
The Board has accepted August 31 as his last day of service, and initiated the process to find his successor.
Chairperson Walter Qvam said in a statement: "We are grateful for Jon Erik Reinhardsen's strong and very capable leadership of PGS during 10 important years for the company.
"He has led the company through the challenging years of the financial crisis and recently the oil price fall. During this period PGS has become the world's leading marine seismic acquisition company through a strategic decision to upgrade the company's Ramform fleet with the most productive acquisition vessels in the world, equipped with the state of the art GeoStreamer technology.
"PGS has as well taken a leadership position within its MultiClient and Imaging businesses through efficiency gains and quality improvements.
"After the recent successful refinancing and with the considerably reduced cost base, the company is now well-positioned to take advantage of future market opportunities."
Reinhardsen added: "I am honored to have met and worked with so many great people during my tenure at PGS.
"I thank colleagues and the Board for all their support and great cooperation and look forward to following their future success."
Recommended for you

PGS, ION complete innovative Shell work