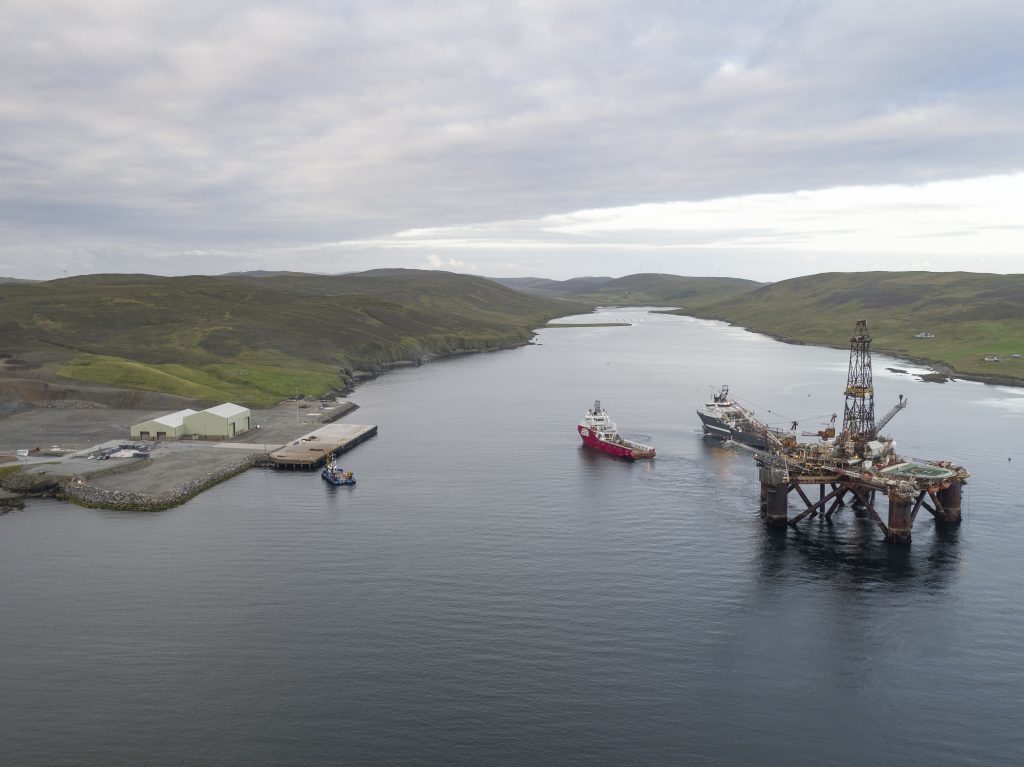 The arrival of a 12,000 tonne oil production vessel for scrapping has been welcomed as "great news for Shetland" by Scotland's energy minister.
Paul Wheelhouse said the latest milestone in the project to dispose of Repsol-Sinopec Resources UK's Buchan Alpha semi-submersible was a "clear sign" of the opportunities in the emerging decommissioning market.
Believed to be the first major North Sea floating production facility to be disposed of in Scotland, the 44-year-old vessel was towed into Lerwick Harbour waters at the weekend.
It will be dismantled at the Shetland port's Dales Voe base by a consortium of French water, waste and energy management company Veolia and logistics firm Peterson. The project will create up to 35 jobs.
Mr Wheelhouse said: "I am delighted that we have now seen the safe arrival of the Buchan Alpha in Lerwick. This is great news for Shetland and a clear sign of the opportunities available in this emerging market.
"The decommissioning of the Buchan Alpha provides Scotland and our supply chain with the opportunity to demonstrate our skills, capabilities and competitiveness in this area."
The minister said Scottish firms were already capturing the "majority of value" from North Sea decommissioning, particularly from well plugging and abandonment work.
Lerwick Port Authority (LPA) chief executive Sandra Laurenson said the Buchan Alpha's arrival was a "significant milestone."
She added: "Recent investment, extending the Dales Voe quay and laydown and progressing plans for an ultra-deep-water quay as the UK solution to future requirements reflect our commitment to capability and competitiveness as a leader in the emerging decommissioning market."
The Buchan Alpha was built in 1973 as a drilling rig and converted for production purposes in Stornoway between 1978-80. The vessel commenced production in 1981 from the Buchan field, located in blocks 21/1A and 20/5A, and later also produced the nearby Hannay field. Production ceased, as planned, on 12 May 2017 having produced around 148mm barrels of oil.
Veolia will dismantle of the steel structure to maximise the recycling rate with the aim of achieving 98% recycling rates.
Repsol Sinopec Resources UK is an oil and gas exploration and production company headquartered in Aberdeen and operating exclusively in the UK North Sea. It has interests in 52 fields, of which it operates 41, on the UK Continental Shelf, with 12 offshore installations and two onshore terminals
Recommended for you
X

Stars need cash to align for single-lift vessel