The Flotta oil terminal in Orkney is enjoying a renaissance just four years after thoughts were turning to winding down the facility.
At that time, the terminal appeared to have no long-term future, but a transformation programme initiated by its operator and an oil handling arrangement for the Golden Eagle field turned things around.
Yesterday, a ceremony was held at the site to mark four decades of service for Flotta – and look forward to at least another 10 years of work.
Senior management from operator Repsol Sinopec Resources UK (RSRUK), Alistair Carmichael, MP for Orkney and Shetland, and local councillors visited Flotta, where a plaque was unveiled.
The facility, which covers about one sixth of the island of Flotta, was inaugurated in 1977 and was expected to operate for about 15 years.
Forty years on, it is still processing North Sea oil, handling 100,000 barrels per day on average.
A pillar of Orkney's economy, it currently employs about 280 people, 75% of whom are residents of the islands.
But as recently as four years ago, the future looked uncertain for Flotta as production was in decline and the facility was becoming too expensive to run.
RSRUK managing director Bill Dunnett said the transformation programme, which focused on all of the firm's assets, had helped reduce operating costs by a quarter at the terminal.
Flotta also received a new lease of life when it started processing reserves from the Nexen-operated Golden Eagle field in 2014.
Output from Golden Eagle doubled the volumes shipped through the terminal, which is currently expected to remain in service until around 2030.
Mr Dunnett said he was "proud" of Flotta and hailed the "near-perfect" performance at the terminal, where uptime is being maintained at 99.98%.
He also said he was aware of Flotta's value to Orkney and vowed that the facility would be there "for a long time to come".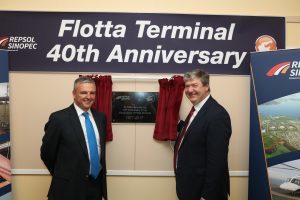 Mr Carmichael said Flotta was "remarkable" and that its turnaround was representative of the North Sea oil industry's development and its continued importance to Scotland's "economic base".
He also said the terminal was one of the reasons Orkney still plays a big part in an industry of national importance.
The terminal's story began in 1973 when Occidental North Sea Group picked the site as landfall for its newly discovered Piper oil field, 125 miles east of Caithness.
The facility has changed hands a number of times. In 1991, Occidental Group sold it to Elf Aquitaine, which operated it until 2000. It was then bought by Talisman Energy, subsequently Talisman Sinopec Energy UK and now RSRUK.
Flotta has an impressive safety record. There have been no fatalities, major accidents or reported leaks during its entire operational history.
Recommended for you

Aberdeen's Talisman House office block put up for sale for £19.5m