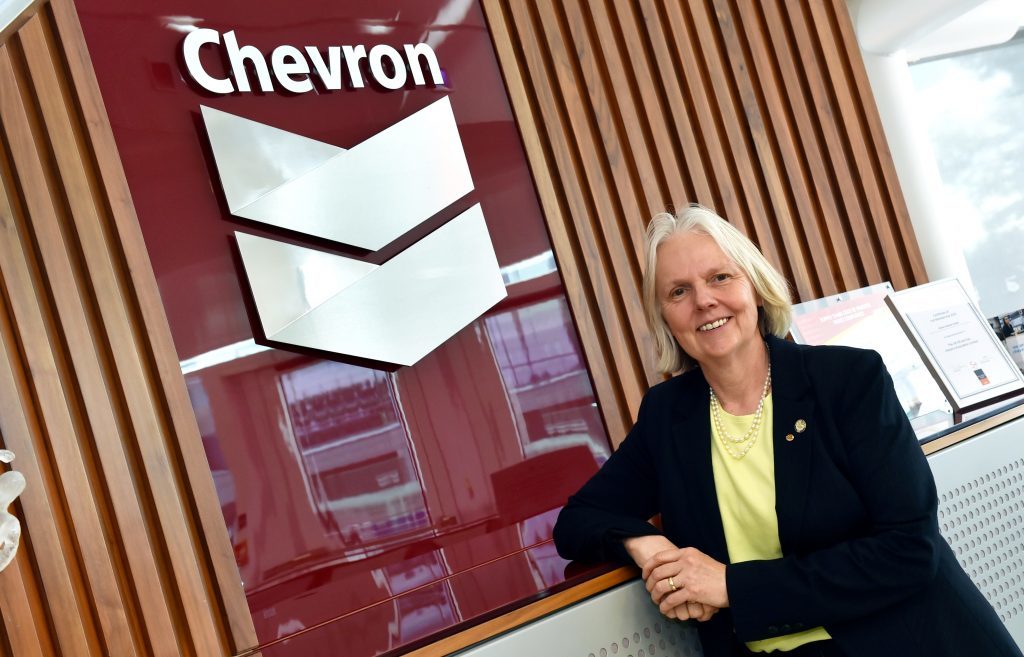 With the North Sea topping the global industry with women leadership, Energy's new series highlights those forging the path ahead for the sector.
Greta Lydecker was sitting in her post-graduate class when her professor turned to her and said: "Why are you doing this? You're probably going to just get married and have kids. You're probably taking a job away from some guy who really needs to support his family."
It was the first time in her budding geology career she had experienced any backlash.
"All I could do was get up and walk out, because I didn't want to say anything terrible to him, so I thought the best thing I could do is say, 'excuse me, I'm going to leave now'," she said.
"I finished the course with him, but I had never been exposed to that sort of comment before. I had always been very well supported by parents who told me I could do anything."
The oil veteran grew up in Oil City, Pennsylvania.
But the oil industry wasn't originally in her sights. She planned to major in chemistry and had set a course for pre-med when geology class changed her perspective.
"The first time I was taken outside and had geological processes explained to me and how the earth has transformed over hundreds of millions of years was really exciting, because I hadn't had exposure to that in my younger education," she said.
"It was so exciting I switched my major right away."
The keen sports fan, who played tennis in college, soon found herself being recruited once again – this time by oil majors on Boston College's campus.
"When I got to graduate school it was pretty obvious every major oil company came on campus to recruit," she said.
"That was my first exposure to the possibilities of a career using my degree."
She joined Chevron in 1982 and quickly worked her way up the ranks.
"During the difficult years in the 80s when we were suffering really low oil price and were contracting every couple of years, I gained experience in something that was called Total Quality Management and was able to use that to get a job in another part of Chevron in the natural gas market," she said.
That led to a job selling natural gas to industrial users, which led to a job in corporate planning, which led to a job as finance manager, which led to her role as vice president of Chevron's San Joaquin Valley Business Unit in Bakersfield, California and ultimately now as the head of Chevron Upstream Europe.
"That's Chevron's approach. We would like people to come here and stay here," she said.
In her three decades in the industry, she has seen the energy sector develop from both a technology and diversity perspective. Chevron developed its own diversity strategy in the 90s.
"In 35 years a lot has changed in the world. When we had our first child, I remember my year-end performance review with my boss and the closing comments he put in something along the lines of, 'Greta has become a first time mother and her performance has remained strong'," she said.
"At first I thought good, great! Then I thought wait a minute, what does that have to do with it?
"I decided I would ask him about it and what did that mean. And I decided I would do it in a way where I asked him to compare me to someone in the group, who was a first time dad.
"I asked, 'Jerry is a first time dad. I don't know for sure, but his performance looks strong. Did you put the same comment on his?'
"He said no he didn't. We reflected on that and it was really cool, because here's this guy who was my boss and many more years' experience than me.
"And he had the big learning of 'Oh my gosh I guess I was biased in that way, thinking your performance would slip and not Jerry, because he was a man'."
She added: "It was a big watershed moment for both of us I think. He thanked me for helping him see that he had this bias and I thanked him for being receptive to my challenge."
Today Chevron, Maersk Oil, Oil and Gas UK, Statoil, ConocoPhillips, Total and the Oil and Gas Technology Centre are all led by women.
"It is pretty cool," said Greta.
"But I don't think we gang up on the guys at all. We're supportive of one another as women. But diversity is beyond gender. It's about perspectives and thinking styles."
Greta describes her three decades at Chevron as "awesome".
As for her next challenge – the North Sea – she brings a fresh perspective as a basin newcomer.
"The environment here in the North Sea with the Oil and Gas Authority (OGA) promoting that collaboration to maximise the economic recovery is perfect," she said.
"I'm very optimistic about what I see not only from Chevron's perspective, but the industry as a whole.
"If you look back there's been rapid exploration development. People may think we were just on a downward path but I do think there's opportunity to level that off and improve recovery from the fields that we have, as well as bring on new fields. We're not done yet here by any stretch."
She added: "We're very excited that we're going to pilot enhanced oil recovery as a way to improve Captain. We're very close to thinking we have figured out how that can make a huge difference and improve recovery," she said.
"The best place to look for pecans is under a pecan tree and the best place to find oil is in an oil field, because you already have the infrastructure there.
"We have Rosebank, our big major capital project in the West of Shetland, and our partnership with Clair. And there's some exploration things we see in the 30th round that we are excited about, so there is more to do."
And the reach of the North Sea's oil to affect change is unlimited, according to Ms Lydecker.
"It's exciting to think about the future," he said.
"I like watching Star Trek and I think about the day where we can say 'beam me up', but we're not there yet, so we continue to need oil and gas to fuel economies around the world.
"And there are still people who don't have what we have.
"There are people, who would love to be able to turn on a switch and have light, or have heating, or mobility. I'm quite proud to work in the industry that provides that fuel for the nations' economies.
"I think there's a lot more in the North Sea and a lot more work to be done through collaboration and technology."
Recommended for you

What's happening with the oil and gas skills passport?