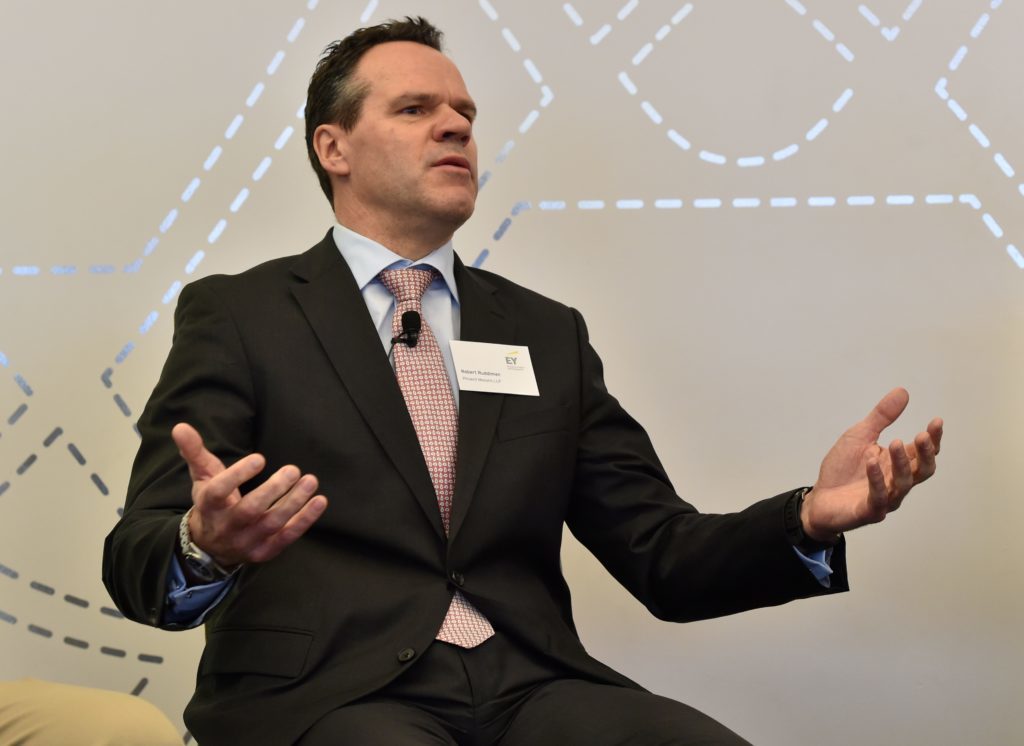 Oilfield services leaders in the UK have been told they have "done well to survive" but need to get over risks around innovation.
At an event to launch EY's "Review of the Oilfield Services Sector", Bob Ruddiman – an expert in oil and gas at law firm Pinsent Masons – discussed whether the industry had done enough to survive.
He said that firms need to ensure that fear does not drive their decisions for the future, and the industry cannot remain in "survival mode".
The EY report showed that turnover for the sector was down 15.5% in 2016, but suggested it was now "back from the brink" and poised for growth this year.
Mr Ruddiman said: "We are in the middle of the road and that is a particularly dangerous place to be.
"Everyone in the room would acknowledge that we didn't see the problems coming in 2014. The response was initially one of shock and the industry has done very well to survive.
"You can't go through two or three years of survival without some problems but a huge amount has been done."
He pointed to work from the Treasury and the creation of the Oil and Gas Technology Centre (OGTC) to help weather the storm.
"I don't think we can be in survival mode forever, we have to ask how are we going to innovate and turn that corner.
"We have got to have the confidence to invest but this is difficult if the industry continues in survival mode.
"It is very difficult but we shouldn't have fear drive everything, "
The EY report said areas like use of new technologies is key going forward, as well as investment.
Stephen Ashley, manager of digital transformation solutions at the Oil and Gas Technology Centre was also on the panel, and urged firms not to let old habits creep back as activity returns.
"There is a feeling that innovation is inherently a risky process, I think we have to get over that, we have got to be able to try new things.
"Particularly some of the new operators who are purchasing some of the more mature assets, they are willing to do things differently.
"With some of the bigger operators it is still a challenge to get to the right people to pitch these new technologies."
He added however that the OGTC is working with dozens of companies that are working to keep up innovation.
"The supply chain is struggling but I think that will change, we really needed the downturn to change the way we work.
"When companies look at digital transformation specifically they look at it and want to know where to start.
"The best way of looking at it is outcomes with a short, medium and long-term view and then identifying what technologies exist from a digital perspective that can be used to solve those problems and investing in those.
"The barriers are if you are in operational mode – which we are as an industry because we had to consolidate so we've got less people – so many are very busy operating and doing the day job and sometimes its difficult to take a step back and say how can we do things differently?
"One of the roles of the OGTC is  to bring new ideas and technologies to the operators and service companies to let them know they are available, and we're asking for the help of the major companies to test things and try them out."
EY also said diversification – either by industry or geographically through exports – is another tool that firms can use for the future.
Technology firm Ecosse Subsea has been doing both in order to get through the industry downturn – moving from oil and gas to renewables, and utilising the European market which accounts for around a third of its turnover.
Chairman Mike Wilson said: "We were lucky enough to recognise a few years ago that the market was very very frothy and we diversified into renewables.
"Renewables has been very good to us, we've managed to arrest our decline in the oil and gas sector and we've gone from 90% oil and gas business four years ago to 90% renewables.
"To that extent we're keen on the oil price to re-diversify into oil and gas, not that we ever left it, but there's just much more opportunity now.
"That adaptability – you just have to look for opportunities whoever you can get them. If it wasn't renewables we'd be doing something else. We're currently looking at other sectors like subsea mining. "
Andy Brogan is EY's global head of transaction advisory services for oil and gas.
He echoed the sentiments of the report, believing that this year will be positive, although it will be down to individual companies to make the changes needed for success.
"The main thing is we're definitely through the worst but it's not a simple trajectory out, so different parts of the industry are going to go at different speeds depending on what they do,but I think we can see the industry is now on a reasonably stable footing.
"Success is going to be partially driven by outside events, but it's going to come down more to how the companies operate and those that innovate and can manage themselves well will be the successful ones going forwards.
"It's still a fragmented landscape but over the last couple of years many companies have forced themselves through that journey.
"We don't think there's going to be a price boom or anything that's going to take all the problems away, however, we do think this is going to be a year where we actually see people spending money on drilling wells, developing projects or at least sanctioning developing projects.
"I think it will be a positive year, I don't think it will be a boom year and we will be on a slow and steady trajectory but upwards."