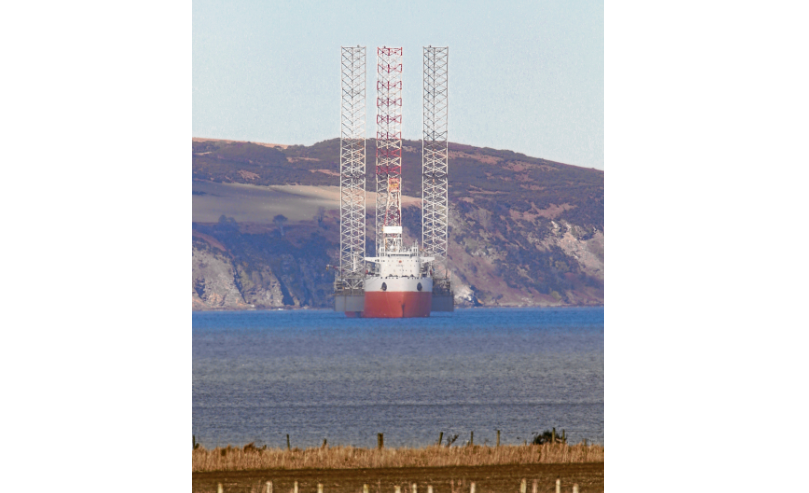 One of the two heavy lift vessels which arrived in the Moray Firth around New Year is finally leaving Scottish waters with a rig.
But the Chinese carrier has not picked up one of the three platforms being investigated by Scottish environmental authorities.
The carriers were booked by US firm GMS to remove three cold-stacked rigs from Cromarty Firth.
But Scottish Environment Protection Agency (Sepa) blocked the rigs' transport in January amid concerns they would be taken illegally to India or Bangladesh to be dismantled.
Sepa said yesterday that it had handed down a formal notice preventing the removal of the rigs without its written permission.
The three rigs in question are the Ocean Princess, Ocean Nomad and Ocean Vanguard, all formerly owned by Diamond Offshore Drilling.
The giant Hua Yang Long heavy lift vessel has now raised anchor, having been stationed in the Moray Firth since December 28.
It is understood that while the vessel is not leaving empty handed, it has not managed to pick up one of the platforms held by Sepa, either.
Hua Yang Long is understood to be delivering a different rig to Denmark.
The second heavy lift vessel, Hua Hai Long, left Moray Firth about a month ago without having picked up any rigs.
It is currently making its way around Portugal, en route to Turkey.
Sepa chief officer John Kenny said: "In January Sepa was made aware of the imminent shipment of three oil rigs from the Cromarty Firth, and concerns about their destination and disposal.
"Sepa experts in the transfrontier shipment of waste immediately began investigations to establish whether the movement of the vessels would be in accordance with European Commission Regulations for waste shipments.
"Sepa issued an immediate direction on 12 January 2018 preventing movement of the vessels and have since issued a formal notice under the Transfrontier Shipment of Waste Regulations which does not allow the rigs to be transported from the UK without the written consent of Sepa and all other competent authorities.
"The vessels remain in the Cromarty Firth, and our discussions with the principal agents for the owners of the vessels regarding the movement of the vessels are ongoing.
"Until we are satisfied that there would be no breach of regulations the vessels will remain undisturbed."
Recommended for you

Protestors blocking entrance to Cromarty Firth oil rig maintenance facility