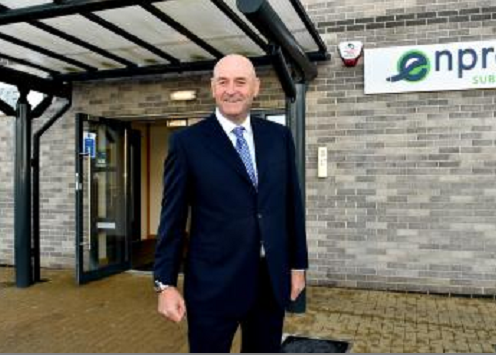 "We've just had a record year and its come straight after the oil recession when we were fortunate enough to stay in profit, although it was very tight," Ian Donald said.
The managing director and largest shareholder in Enpro Subsea is a veteran of the offshore industry with a track record spanning several decades and hitting the industry's headlines back in the 1990s with DES, a technology driven subsea company that made its name with MARS (Multiple application reinjection system).
Enpro is, however, a different style of company to DES and has been profitable from the start.
"We looked at a strategy that would deliver a base income with field development consulting," Mr Donald said. "That delivered the positive cash flow that allowed us to develop the patents and products that now define Enpro."
The gateway to Enpro was a company called Cansco, which was set up in 2011. Its trading unit Cansco Subsea became Enpro on January 26, 2015, according to Companies House records.
"We had been working with Cansco because of access to its fabrication yard," Mr Donald said. "And one of our early targets was the nascent decommissioning market, another was field development consulting.
"The cash flow allowed us to mature ideas for the patents and subsequently to finance the manufacture of systems for the market."
The going was harsh, exceptionally so, according to Mr Donald.
"It is fortunate that we designed the business the way we did," he said. "Four out of the five directors we have at Enpro are formerly of the MARS team. It has been supplemented by Neil Rodgerson who I've known for some time and he was very keen to see what could be done with the field development piece."
The four ex-MARS guys are, of course, Mr Donald, plus John Reid, Tom Bryce and Steve Robb. They have since been joined by Craig McDonald, who was also from the MARS team.
This is so often an entrepreneurial characteristic of North Sea SMEs. Small teams of highly-experienced people have time and again taken a risk by striking out on their own or together from perhaps secure jobs at big oil companies and contractors. The chemistry really seems to work.
There was an inevitability that former DES people involved with MARS would want to have another go at success together. Moreover, they started out totally self-financed, carrying no debt.
Mr Donald: "I think we have a good and complementary range of skills between us and we're having a great time. It's important to have people who are focused and can see opportunities when they present themselves, as well as the risk. It always comes with risk."
Enpro turned over around the £500,000 mark in its first year. This year the forecast is £10-£15million.
Mr Donald wants to capitalise on rapidly shifting market conditions in the North Sea and elsewhere.
"We're also trying to understand where we generate the best value for clients," he said. "And that's in the engineering and project management space.
"The balance of the business has changed throughout the period. We were pleased we adopted the strategy we had because the field development engineering work did keep going, though activity was turning down.
"There was some decom that had reached the execution phase and, as the latter part of the downturn began to bite, we were picking up the first enhanced production orders for our FAM (flow access modules) system. Also, our hydraulic stimulation system was in build.
"And though we've been making systems, what we've not done is take on large external assets like workshop facilities.
"We would then have to keep such facilities busy and that would end up driving the business.
"In any case, we didn't think we were the sort of people to run workshops. There are other people who are better at that. We have kept to our core capabilities."
Investing in intellectual property and turning that into living equipment is crucial to the future of Enpro. It's about deployment of fit-for-purpose technologies and generating competitive advantage.
"We see technology and innovation playing an enormous part in the future of Enpro," Mr Donald said.
"Its very important to us that we have the ability to offer differentiated technology and services. This is where having an engineering base is so important.
"We can see where the niches are emerging and where the expenditure is likely to be."
A couple of years ago, Enpro was concentrating on a technology named ESSI; what happened?
Mr Donald said: "We rebranded it as there were connotations that we didn't like. So we rebranded it as FIS (flow intervention Services); F Decom (field decommissioning); FAM (flow access module) of which there are currently 35 or so deployed worldwide; and F Dev (field development). This enabled clear differentiation between the four market segments and this helped us during the downturn period."
In the case of fis, the company is currently delivering a 15,000psi version of the system targeted at high pressure subsea fields, particularly in deepwater US and Africa.
The work is being supported by a Scottish Enterprise research and development grant and is planned for completion of testing in Q4 2018.
"We see a great long-term value builder with fam especially," Mr Donald said.
"It's a game-changer in that it allows the enhancement of subsea architecture. It is capable of achieving faster and potentially cheaper tie-backs with standard trees and manifolds and it gives the user life-of-field flexibility. We see that as being a really good long-term business driver.
"Moreover, the units that we build are compliant with the latest API standard."
Enpro's technologies are tangible pieces of equipment that can be touched. To build them requires money and Enpro has ploughed back millions of pounds into building the kit.
But it's not cheap and Mr Donald and his co-directors last year came to the conclusion that it was time to consider bringing money in from outside.
That's why, early this year, sector specialist Energy Ventures Private Equity took a "minority" stake to accelerate the putting together of the company's hydraulic intervention and new production modules (FAM and FIS) for use in the Gulf of Mexico and West and offshore West Africa.
"There's further technology that we would like to develop and the involvement of Energy Ventures could be very significant for the globalisation phase of our technology," Mr Donald said.
Until now, Enpro has been active in the UKCS, West Africa and the GoM. Globalisation means deepening these existing relationships in GoM and West Africa in particular, plus Brazil and Norway.
By 2020, where does Mr Donald believe the business balance will sit?
He said: "We've so far been 80% international and 20% UK; but the pendulum might actually swing back to the North Sea a little as oil companies rekindle investment.
"International has always been important to Enpro. Indeed, the first deployment of FAM was in deepwater Gulf of Mexico where we were able to solve a problem that no-one else could. The uptake on that architecture has been very positive for us."
So what's his message to the oil and gas SME community, bearing in mind that many went to the wall during the 2014-16 downturn, which still echoes, and others are now so fragile that they might not survive either?
"There's been a tsunami," he said. "It is important for every firm to develop strategies that allow them to survive. For us it was the breadth of what we do that has been the key to our survival. Tenacity is an absolute must. To be able to recognise changes in the market and respond is another; develop and build and deliver technologies and services very quickly is another must.
"We always look to do things as simply as they can be done and that simplicity is normally a good thing in subsea as it's bloody difficult to get anything back to the surface."
Recommended for you

Interview: UK energy minister reaffirms oil and gas support ahead of COP26