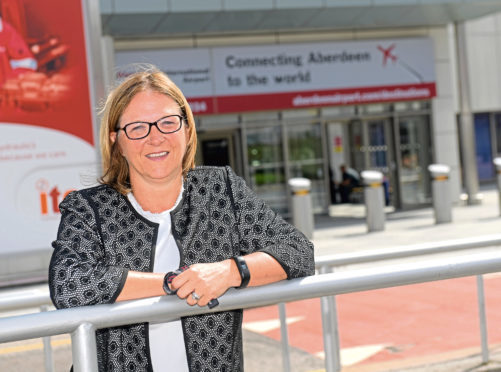 A stable oil price could help lure back airline carriers to Aberdeen airport, its outgoing managing director said today.
Carol Benzie is leaving Aberdeen International Airport tomorrow after 10 years at the Dyce terminal.
Starting as operations director back in 2008, after joining from charity Inspire, Carol was made managing director in 2013.
It was announced earlier this month that she was stepping down from her role.
Speaking to the Evening Express ahead of her last day, Carol said she felt more carriers could be persuaded to fly from Aberdeen if the oil price stabilises.
She said when German flagship operator Lufthansa axed its flights earlier this year it was a "body blow" for the airport.
"The route we were proudest to get and then lost was the Lufthansa route," Carol said.
"It was an airline deal that we worked on for five years to try and convince them that there was onward connectivity for them to the likes of Houston and Africa that would work.
"During 2013/2014, when the oil price was high, the route really was working.
"When they decided to pull out because they weren't getting the passengers or the yield they were wanting, it was a real body blow as we had worked so hard at that one.
She added: "For a regional airport the size of Aberdeen it was a major feather in our cap to land that type of carrier as not many airports have Lufthansa operating there.
"Obviously the business traffic decreased in the last few years and they made that decision.
"I still think they might look at it again, you never know. As the oil price is sustaining up above $80, business traffic is starting to pick up so they may choose to look at it again."
Last month, the airport reached a milestone in its £20 million transformation project.
Carol said she had mixed emotions in her final days but was delighted at the progress being made with the £20m extension.
The opening of the latest phase saw the world duty-free space double in size and a new security hall created.
Carol added: "It has been such an exciting 10 years.
"There is a lot I'm going to miss about the airport –the people, the relationships and the buzz – there is always something happening at an airport.
"The terminal transformation is obviously the biggest high, seeing the passenger areas completely transformed and getting great feedback from regular passengers about that improvement has made such a difference and lifted the whole airport community."
Looking forward, Carol said the region may struggle to attract new low-cost airline routes due to the size of the population.
She said: "A lot of people in this region are quick to criticise the airport in terms of why do we not have more low-cost carriers or more flights to holiday destinations.
"The simple fact is we don't have enough people living here to justify a low-cost carrier coming in more than they do.
"They need to fill that aircraft to 96% plus every single time it flies, so in 200-seater aircraft you are looking at 180 people plus every time.
"We do try really hard but we are up against it as you have European airports all around the place pitching for an aircraft but they might have a population of two million within driving distance of the airport and we have only got 500,000.
"It puts us way down the pecking order."
Carol said she was looking to stay in the north-east and possibly get involved in projects in the area.
She said: "I love being a regional ambassador as I think the north-east has a great story to tell so if I can play any part in that going forward that would be great."
Recommended for you

Aberdeen Airport welcomes first supply of greener aviation fuel