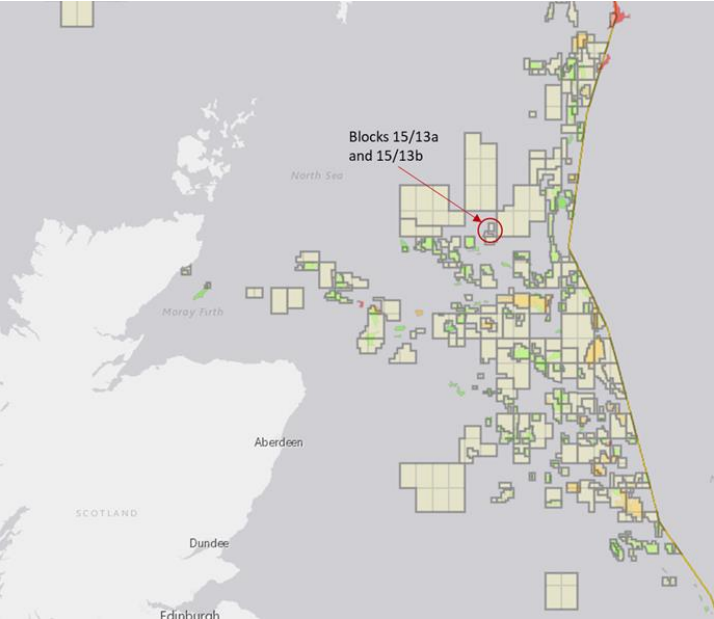 Malaysian oil firm Hibiscus Petroleum has completed the acquisition of stakes in two UK North Sea discoveries for £28.5 million.
In a Malaysian stock exchange announcement, Hibiscus said it had fulfilled all of the conditions relating to the sale and purchase agreement, which has become "unconditional".
The company said it had not yet received written consent from the Oil and Gas Authority for operatorship to transfer to its wholly-owned subsidiary, Anasuria Hibiscus UK (AHUK).
But Hibiscus said OGA consent is now a "post-completion event".
"It is contemplated that AHUK will assume operatorship of the blocks upon approval from the OGA," Hibiscus said.
Hibiscus has bought 50% of blocks 15/13a and 15/13b from London-registered Caldera Petroleum.
Caldera is a wholly-owned subsidiary of Aban Singapore, whose parent company is India-headquartered Aban Offshore.
It bought 100% of the two blocks from Iran's national oil company for £57 million, and immediately sold half of its equity in the assets to Hibiscus.
Aban told the stock exchange: "Further to our announcement dated 9th October 2018 in respect of acquisition of 100% interest in a UK Continental Shelf Production License and sale of 50% interest in the same, we wish to inform you that the above said transactions have been completed."
The blocks are contained within licence P198, 155 miles north-east of Aberdeen, and are thought to contain 60 million barrels of oil.
AHUK's other North Sea interests include 50% joint-operating interests in the P013 licence consisting of the Teal, Teal South and Guillemot A fields, as well as 19.3% non-operating interest in the P185 licence consisting of the Cook field.
They produce oil and gas to the Anasuria FPSO and are collectively known as the Anasuria Cluster.
Recommended for you

Interview: Anasuria on 'exciting' first year as North Sea duty holder