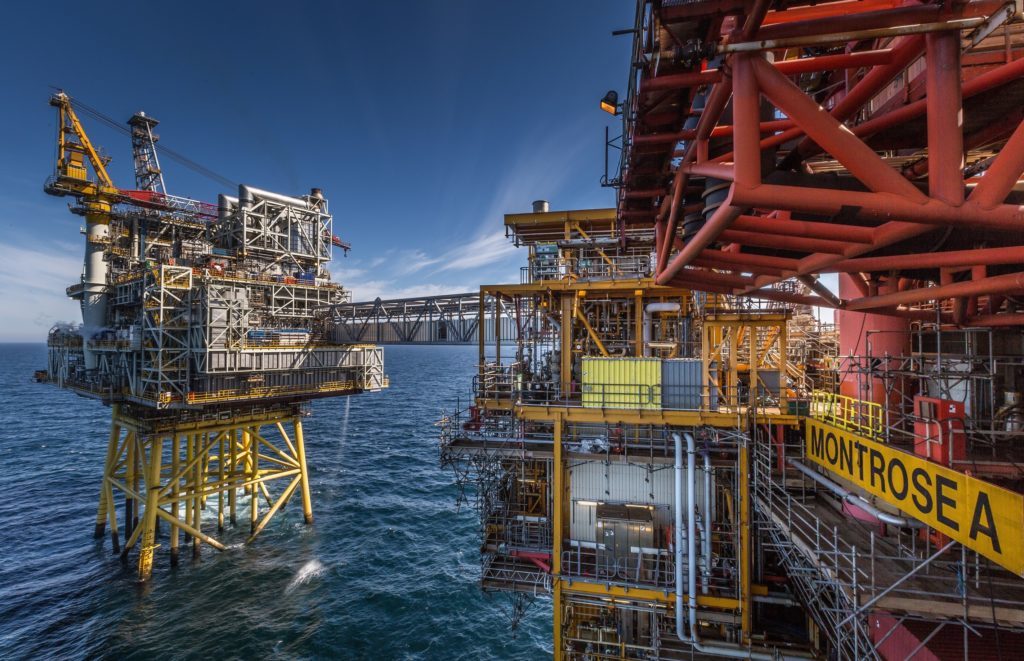 Performance has "never been better" at Repsol Sinopec Resources UK (RSRUK), the joint venture's chief executive said.
The company's transformation is a year ahead of schedule and it's a "good time" to be there, according to Bill Dunnett.
Its lifting costs are down 75% in the last three years because the business is more efficient and is producing more, even though it has fewer fields.
Production efficiency has doubled in that period, despite a 40% reduction in headcount.
Mr Dunnett said RSRUK is now a 20-year business entirely focused on North Sea assets.
"The assets' performance is pivotal," he said. "We've been rationalising our portfolio and dealing with legacy issues.
"There has been a massive focus on closing them out and clearing any threats to future operations."
The future looked bleak for the company not long ago.
RSRUK arose in 2015 following Repsol's acquisition of the global assets of Talisman Energy, including its 51% equity interest in the joint venture, previously called
Talisman Sinopec Energy UK (TSEUK). Chinese firm Sinopec Group owns the remaining 49%.
TSEUK struggled in the years preceding the downturn, recording pre-tax losses of £1.6 billion in 2013 and £3.7bn in 2014.
RSRUK, which has interests in 52 fields on the UK continental shelf with 11 offshore installations and two onshore terminals, showed it had got a grip on its finances last year.
It recorded pre-tax profits of £367million in 2017, compared to a deficit of £1.1bn in 2016.
Mr Dunnett said: "Our policy is to optimise core performance and make production efficiency sustainable and reliable to help protect future investment.
"That was not always the case here. We had some good assets but the
performance of others was not acceptable.
"Some of our assets are in the high 90% production efficiency category now. We are also pushing for zero incidents across our installations."
But the process was not painless.
In September 2017 RSRUK revealed plans to lay off 80 North Sea staff members due to a drop off in activity levels following the completion of major projects, including its Montrose Area Redevelopment.
And in May it announced that 70 onshore employees would be made redundant.
Mr Dunnett said he had "nothing but praise" for the team's efforts over the last three years, which made the cull that bit more gut-wrenching, though many redundancies were voluntary.
The company's expansion plans are exciting.
It is building a full-time drilling rig on the Claymore platform, a "big statement of faith" in both the business and the 41-year-old installation.
All drilling work in the last three years was carried out using semi-
submersible and jack-up rigs.
Mr Dunnett said the reinstated rig was not earmarked for well abandonment work. Rather, it will be used to drill infill wells and rework existing wells to keep the platform productive into the 2030s.
Plans are also afoot to activate a drilling rig on Piper Bravo for in-field redevelopment work.
New technology forms a big part of the picture at RSRUK, according to Mr Dunnett, who is co-chairman of the industry's technology leadership board.
RSRUK is focused on three specific areas of digitalisation of the business, integrity management and non-intrusive inspection.
The company has invested in two 4D-technology enabled integrated operations centres (IOC) at its Aberdeen HQ to improve production efficiency.
The IOC serving its Montrose and Arbroath installations saved RSRUK £61m in its first year.
A second IOC, which took about three months to put in place and required just £750,000 worth of investment, was officially opened at the end of September.
It will link the Flotta Catchment Area (FCA) installations to the beach more effectively.
Employees in the IOC are effectively an "extension" of the offshore team with near-full visibility of processes on the installations.
When unplanned shutdowns are unavoidable, onshore teams can help diagnose and resolve problems more quickly.
It means a shutdown that would previously have lasted days now takes a matter of hours to put right.
The first IOC has helped RSRUK get the Montrose installation up to the high 90% production efficiency bracket.
RSRUK spent just under £2 billion redeveloping the Montrose area in recent years.
The project involved the installation of a new bridge-linked production platform (BLP) connected to the Montrose Alpha rig.
Prior to that project, and the IOC's implementation, Montrose's production efficiency was between 30-40%.
Turning to decommissioning, RSRUK is testing a cost-busting well plugging and abandonment technique at its Tartan field.
The method involves the use of resin instead of cement to plug wells, which could reduce costs by 35%, because it would allow operators to use a light vessel instead of a rig.
RSRUK has also completed a well P&A campaign on the Beatrice field in the Moray Firth without issue and will use data gathered during the process to assist future programmes.
Last month marked the end of production from the Fulmar platform, which came on stream in 1982 and pumped out 624 million barrels of oil equivalent.
But the platform will not be decommissioned yet. Instead, it will begin the next phase of its life as a dedicated oil export station. It will remain manned and will continue to serve nearby fields, including Auk, Clyde, Flyndre, Gannet and Orion.
Mr Dunnett also addressed one of the UK North Sea industry's thorniest subjects – rotas.
RSRUK is consulting staff members on its three week, equal time rota system.
Shell and Apache recently revealed plans to scrap the three weeks on, three weeks off (3:3) schedule, which has been described as "hated" by union officials.
Total workers agreed to move to 3:3 in exchange for a hefty pay rise after several weeks of disruption.
Many eyes will be on RSRUK and the conclusion of its review.
Mr Dunnett did not want to pre-empt the outcome, but said he saw "great benefits" in 3:3 rotas because of the "continuity" and "retention of knowledge" they cultivate.
But he acknowledged that people's lives away from work also had to be taken into account, and said employees had come up with "good suggestions" relating to "intrusion into time onshore".
On the initial decision to switch to 3:3, he said: "We value our staff members' knowledge and want what's right for them.
"First, we had to create a sustainable business so we could see that there was a future where people could plan their careers with us. We could not see that three years ago."
RSRUK is now at that stage and is willing to take another look at the schedules to find the right solution for its assets and employees.
The company hoped to have the results by the end of October, followed by a management review and a decision before the end of the year.
Mr Dunnett said: "We will look at what's the right time balance on and offshore. Whatever we decide will be for all staff members and
contractors."
Recommended for you

North Sea firms slash 500m barrels from plans on EPL uncertainty, OEUK finds