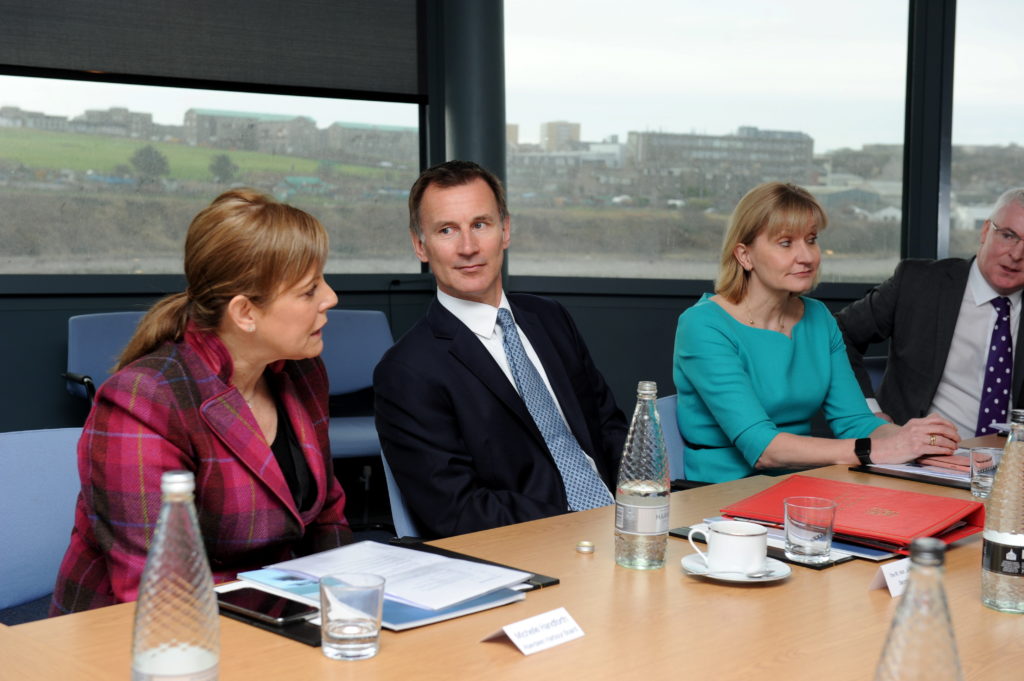 The UK foreign secretary held a roundtable meeting with North Sea oil and gas bosses on Friday amid – what he described as – "the crucial final stages" of Brexit negotiations.
Jeremy Hunt said he was not in the Granite City to give "assurances" to the sector, but listen to their concerns around exiting the European Union.
He also claimed that the UK Government wanted an "international Brexit" and not a situation where "we pull up the drawbridge and pull down the shutters".
But Mr Hunt did reveal that current North Sea supply chains could be affected if no agreement is reached with the EU.
He said: "We've tried to negotiate a Brexit which has frictionless trade and allows the supply chains that we currently have to continue completely unaffected by Brexit – we don't know whether the EU will agree to that.
"We hope they will and we think it's in their interest.
"We are doing our very best and we have to see what happens in the next few crucial weeks."
Mr Hunt met chief executives from BP, Shell, Spirit Energy, Aker Solutions and French oil giant Total.
Deirdre Michie, chief executive of Oil and Gas UK, was also in attendance, alongside local Tory MP Ross Thomson.
Following the meeting, Ms Michie said: "I was pleased to meet with the foreign secretary alongside other industry leaders today at a really constructive meeting at which he asked lots of insightful questions about industry.
"We were able to share the progress our industry continues to make in relation to the downturn as it seeks to maintain its competitiveness and position itself for the future."
Neil McCulloch, executive vice president for technical and operated production at Spirit Energy, described the roundtable as an "excellent meeting".
He said: "As well as highlighting the scale of our exports and the potential to share UK skills and knowledge across the world, we also discussed the contribution we make to UK plc, as well as how we – alongside and in collaboration with the renewables sector – satisfy domestic energy demand during the transition to a low-carbon economy."
On Thursday night, Mr Hunt told the Press and Journal he was confident the North Sea sector had the "resilience" to hurdle the economic resulting from Brexit.
He also vowed to fight for a "pro-business" immigration policy, adding yesterday: "The north-east energy sector is one of our most important sectors, and generates billions for UK taxpayers.
"We've made it clear that we want to have an international, open, outward looking Brexit, not a Brexit where we pull up the drawbridge and pull down the shutters.
"Brexit doesn't mean that we're going to have no immigration; immigration will be controlled by the UK parliament and I'm sure they'll want to have a policy that's pro-business."
Mr Hunt also briefly touched on the concern surrounding the uncertainty of a no deal Brexit.
He claimed that now was not the time for the UK business community to "lose heart".
He said: "We are determined to make a success of Brexit but we need some flexibility on the EU side.
"We just couldn't support a deal that trapped us in the customs union.
"There was always going to be uncertainty. If you have a referendum and the country decides to change our legal relationship with the EU and the government are committed to implementing that democratic decision – that means negotiating a new relationship.
"This was never going to be an easy process, but I don't think we should lose heart in the final stages now."
Recommended for you

Oil and gas emissions predicted to rise for North Sea companies