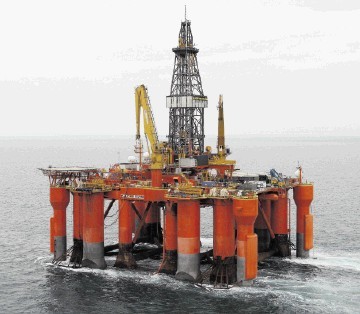 North Sea explorer i3 Energy has managed to raise £16 million through a share placing.
The company will put the cash towards this year's multi-well drilling campaign at its Liberator oil field and Serenity prospect.
Based in Westhill, near Aberdeen, i3 is also trying to secure a partner to help develop Liberator, in the outer Moray Firth.
I3 believes Liberator and Serenity could eventually produce more than 200m barrels of oil.
It will use either the Blackford Dolphin or Borgland Dolphin semi-submersible rig for the drilling work.
The firm placed 43m ordinary shares yesterday at a price of 37p each. The placing was oversubscribed.
But news of the fundraiser sent i3's shares down by about 10% to 39p in London yesterday.
Chief executive Majid Shafiq, who bought 144,000 shares, said: "We are thrilled by the strong support and interest we have received from existing and new investors for our oversubscribed placing and look forward to welcoming our new investors to the register.
"I3 is about to enter the most exciting and active operational period in its history.
"The proceeds of the placing, together with sums to be drawn under the previously announced proposed debt facilities, will allow i3 to target over 500 million barrels of oil in place at Liberator and Serenity through our three well drilling programme this summer.
"This funding will also grant i3 the flexibility to drill the upcoming wells at up to 100% working interest while at the same time will provide us the ability to negotiate terms with potential joint venture partners from a position of financial strength and without jeopardising the timeframe for the drilling programme or unnecessarily diluting the company's interests in our projects."