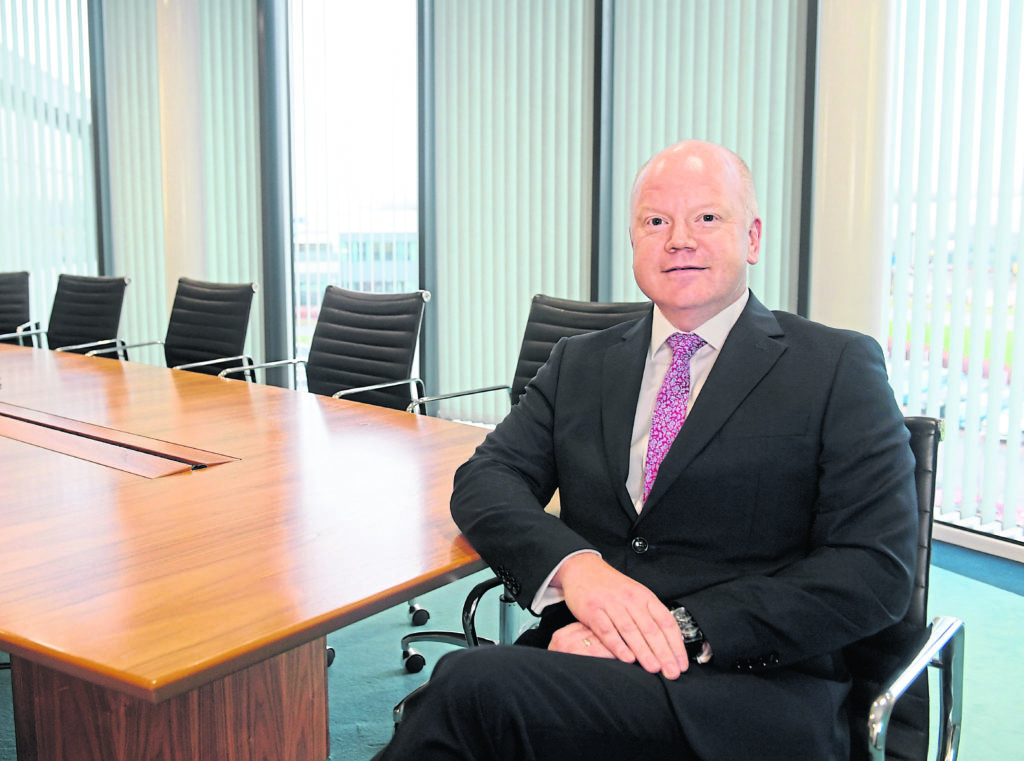 Six months into his new job as Asco Group chief executive, Peter France has worked out the company doesn't need to change dramatically.
Aberdeen-based Asco needs "accelerated evolution" to raise its game to the next level, Mr France said.
He is determined to maintain an "obsession" with safety and service at a company which "moves a lot of heavy and dangerous things around".
Mr France said the company, whose core business is the operation of supply bases, would grow organically and through acquisitions, both domestically and internationally.
And he expects the group's overall headcount to increase, though some "right-sizing" will be required in certain areas.
Mr France joined the oil and gas service firm in October after burnishing his reputation at Rotork, a maker of actuator and flow control equipment.
In his nine years as CEO at Bath-based Rotork revenue grew threefold to more than £650 million in 2017 and the number of employees rose to 3,800 from 1,400.
At Asco, he is in charge of an organisation with more than 1,500 employees and supply bases in Australia, Canada, Norway, Trinidad and the UK. It generated revenues in excess of £480m in 2017.
Mr France, who replaced Alan Brown, said he was attracted to Asco by its 50-year-long heritage of community based activity.
He said: "It's amazing how many people worked for Asco at one stage in their career. I'm proud of the opportunities Asco gives people.
"I want to make sure our legacy and position in the market is maintained."
Mr France believes Asco is doing a lot of good work, but some of the individual business units have found the downturn more challenging than others, and some "gaps" have opened up.
The new chief executive is helping to strengthen the structure of the organisation and make clear the reporting lines that flow through the management structure.
A number of appointments and promotions been agreed in recent months at the group, which is owned by London-based DH Private Equity Partners and Asco management.
Glenn Hurren has taken on the role of UK managing director, Allan Scott is the group innovation director and Steve Mitchell came aboard as group operations and health, safety, security, environment and quality (HSSEQ) director.
Mr France is hoping some of the things Asco is doing to become more efficient and active – and its approach to working with clients – will pay off.
Asco's pre-tax losses widened to £52m during 2017, from £41.7m the year before, as the firm invested in systems and services to cater for its customers.
Mr France said 2018 was a difficult period for industry in general, but that he hopes to see improved figures in 2019.
He reckons the arrival of new operators on to the North Sea scene is "nothing but positive".
Asco is also dealing with increasing volumes of equipment coming onshore as the decommissioning market picks up pace.
Like most supply chain companies, Asco will be hoping for some improvement in pricing so that it can continue to invest in people and services.
But Mr France accepts inflation can't be allowed to spiral out of control, jeopardising badly needed new projects.
"The market has been challenging for some time," he said. "I was aware of the difficulties when I took the job, but the supply chain has found things difficult and been squeezed a lot in recent years.
"The good thing is we are still here, we're still participating. People forget the importance of having equipment in the right place at the right time. That lets operators do what they do.
"We play a vital role in the supply chain. We're looking at how we can continue to support industry as we hope things are starting to become a little bit easier, but we must not go back to boom and bust."
Mr France added: "End customers understand a lot of the supply chain has been depressed for a number of years and cost has been taken out.
"But there are limitations to what we can do simply by cutting costs. We must always look to make efficiency gains and bring in new technology so that we are competitive on the global stage.
"North Sea business needs to be competitive. There's a real benefit to doing that.
"We must keep costs at sensible levels, but there is a requirement to invest in people and facilities and there's a cost associated with that.
"Industry needs to understand the importance of keeping the right amount of investment in there to support long term needs."
Most of Asco's UK workforce is based in north-east Scotland, with 400 in Aberdeen and 430 in Peterhead. The company also has more than 20 people in other Scottish locations, including Dundee, Inverness and Shetland, and more than 100 people in Great Yarmouth, on England's east coast.
Asco has started taking on apprentices and graduates again after a pause which lasted a few years.
It's imperative that companies are developing people who can replace those who are retiring.
The only way of achieving a more balanced age and gender profile is to invest. Mr France said recruitment would become more difficult as the market picks up and companies compete in a talent pool which shrank in the downturn.
"We need to invest in young people and bring in new blood," he said.
"There's a market and an industry that's going to be here a long time.
"If people with experience leave without us bringing new people in there will be a shortage. Industry has a responsibility to bring in young people.
"Finding people is not a problem, but getting the right calibre of people and developing them to get to the right level takes time and investment.
"I'm not saying if the market picks up it won't be more difficult, but it's manageable now.
"We need the right people in the right place. We are recruiting and need to move people around, but the net result will be an increase in headcount.
"There will be some up and downs and right-sizing of the business to get the right skills sets."
Asco will also assess acquisition opportunities across the globe, with a particular focus on companies specialising in quayside logistics and material management.
Mr France said: "We're looking for a business that adds strength in a particular market. It's a two-way thing.
"We need to add value to them and they have to bring something to the company as well."
Recommended for you

Exclusive: Over a third of North Sea workers too heavy for lifeboats