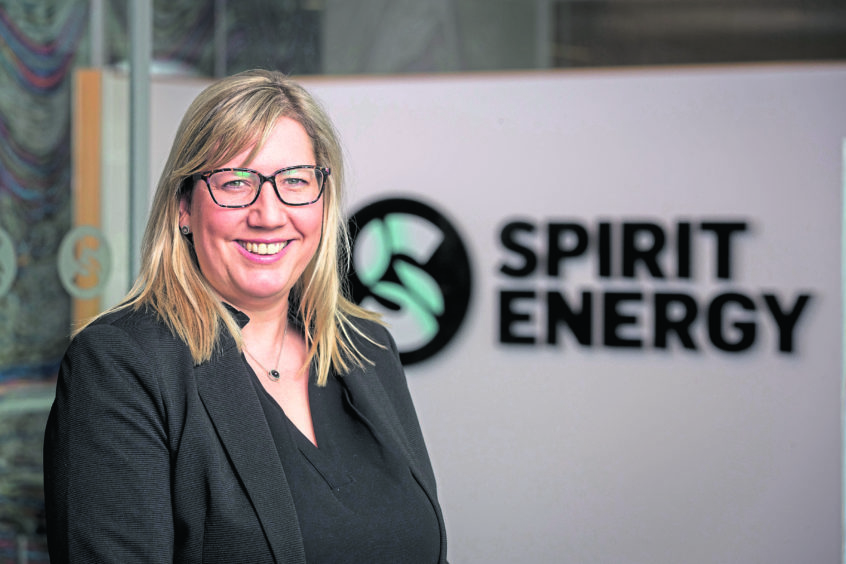 The idea of returning from maternity leave to a promotion sounds a bit fanciful.
But that's exactly what happened to Carla Riddell, of Spirit Energy.
Ms Riddell was strategy and business planning director when she went on leave last year.
After six months off, she came back to work as Spirit's senior vice-president for west of Shetland (WoS).
It's not a role most people would pick if their intention was to ease themselves back into the swing of things.
That post comes with a lot of responsibility and expectation, but also excitement and opportunity.
Bosses will be hoping WoS is about to become a core part of the business at Spirit, formed in late 2017 through the merger of Centrica E&P and Bayerngas Norge.
In September, Spirit struck a deal to buy 50% of the Greater Warwick Area, WoS, from Hurricane Energy.
Spirit agreed to stump up £139 million for a three-well drilling campaign, targeting up to 2bn barrels from the Lincoln discovery and Warwick prospect.
Of course, Ms Riddell has no intention of taking it easy. She is well aware this job can't be done in half-measures.
While at work, she'll need to be fully focused on the task.
But she also needs to give 100% at home, where she has a son who is about eight months old.
It means finding the right balance between a "demanding job and a demanding baby".
Having an "enlightened boss" and flexibility certainly helps.
Part of that means working a four-day week while she gets everything in place to go full-time again.
She said: "For me it was great to come back to a promotion. It's fantastic to promote a woman on maternity leave.
"It shows you're not forgotten about and that all the hard work from the previous 20 years was not lost because I took time away to start a family."
Ms Riddell feels passionately that employers need to find ways to help people have a great home life and a great work life. They shouldn't be mutually exclusive.
Ms Riddell said she had plenty of colleagues and friends who didn't return to work after giving birth.
The oil and gas sector can't afford to let that trend continue.
"This industry relies on talent and it's always a shame for industry when people choose to leave," she said.
"Sometimes they leave for good reasons, but we need to get the best from talented people.
"We need to stop the 'leaky pipeline' of people feeling they need to make a choice between a family or a career. Both are important roles."
Many parents will have felt a pang of guilt at having to arrive late or leave early due to commitments to their children.
Ms Riddell's advice for anyone who feels that way is to think of the advice you get on a plane.
"You have to put your own oxygen mask on first," she said. "Think about how you get through the day and the demands on your time.
"Make sure you look after yourself, before moving on to other people."
Ms Riddell is delighted to have come back to a project which is at its "most exciting phase".
When she went on maternity leave, progress was being made on the deal with Hurricane.
The agreement was concluded in a matter of weeks – very unusual for oilfield transactions, which normally move at "glacial pace".
Ms Riddell feels the structure of the deal works well for both companies, each of which brings something different to the table.
It means Hurricane can drill three wells in the Greater Warwick Area (GWA) early, while continuing to develop the neighbouring Lancaster Area.
Ms Riddell said Hurricane's team members were experts when it came to naturally fractured basement reservoirs found in the GWA, while Spirit has the experience of being an operator.
When the GWA deal was announced in September, the partners intended to drill an appraisal well on Lincoln and two exploration wells on the adjacent Warwick prospect, with Spirit covering 100% of the cost.
If successful, one of the initial wells will be tied back to the Aoka Mizu floating, production, storage and offloading (FPSO) vessel, which is also being used for Hurricane's wholly-owned Lancaster development, and was moored at the field last month.
A further three appraisal wells and a full field development of the GWA could follow.
Spirit would cover half of Hurricane's costs for the tie-in of the well to the FPSO and pay a bonus of between £115m-£190m towards Hurricane's costs of the full field development.
At the development stage, Spirit would take over as licence operator.
Drilling was initially expected to begin in the first quarter of 2019, but the campaign was set back by a few weeks because EnQuest hadn't finished with the Transocean Leader rig.
Ms Riddell said that the well programme was coming together and that she can't wait to get started on the "finding-out stage".
She said: "For me, personally, as a geologist, this phase is the exciting part, where we learn about the rocks and what might be there, as well as figuring out how to get to market. Everything is possible at this stage."
Spirit hopes to tap into Hurricane's technical knowledge, which extends right to the top of its leadership team, and chief executive Robert Trice. Hurricane has built up a lot of knowledge of fractured basement reservoirs, where oil is held in the cracks and joints between very hard rock with no porosity.
Ms Riddell said: "It's a big challenge to understand how much oil is there and where. You have to understand how the fractures are connected.
"Hurricane has been learning what this might look like and could produce a model using analogues and seismic data, but until we start flowing there's a lot of uncertainty.
"We're going to learn a lot quickly and that's exciting."
Recommended for you

Oil and gas companies lodge over 100 bids in North Sea licensing round