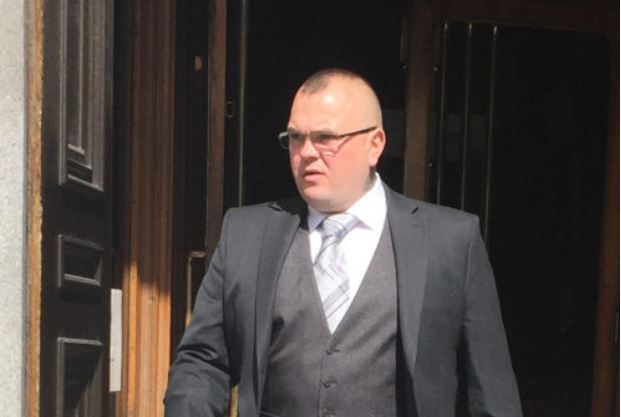 An offshore worker who went on an "exceptionally drunken" air rage rampage causing nearly £1,000 of damage after being thrown off a plane bound for Teeside last year has been fined.
Nathan Jackson, 33, spent seven hours drinking in the bar at the Dyce terminal on August 13 last year before boarding an Eastern Airways flight to get home after working offshore.
Yesterday at Aberdeen Sheriff Court, his defence lawyer, Michael Munro explained that "for whatever reason" he had missed his flight and was forced to wait for the next one.
Mr Munro said Jackson, who gave his address as New York in South Shields, and his travelling companions remained at the bar for seven hours "getting themselves exceptionally drunk" – where they remained until their flight was called.
At the security gate, ground crew were reluctant to allow Jackson to board the flight but were persuaded to let him on the plane.
Horrified passengers heard him uttering obscene phrases when he stumbled aboard.
Once on the plane, the aircraft crew decided Jackson should not travel after all.
Mr Munro said Jackson then became "more than a little annoyed", and added: "He was taken off the plane and remonstrated verbally to the members of staff. He did not assault any of them but took out his anger on the departures board.
"Not surprisingly the police were called and once in custody he stupidly head-butted the door of his cell causing himself injury.
"He is sorry for his antics – especially to the staff members and passengers and also the public waiting in the departure lounge who had to witness his behaviour."
Jackson damaged an electronic information board worth £955 by punching it.
In his defence, Mr Munro said Jackson had been suffering from PTSD since serving in Iraq in 2005 and had been offered no help because he had been discharged shortly afterwards following a positive drugs test for cocaine.
Sentencing him, sheriff Andrew Miller said Jackson's behaviour had been "appalling" and added: "People are anxious enough when preparing to fly – which makes it all the more unacceptable that you should behave in that manner."
Jackson admitted charges of entering an aircraft when drunk, maliciously "destroying" a flight information screen and two counts of behaving in a threatening or abusive manner.
Sheriff Miller fined Jackson £700 and also ordered that he pay Aberdeen Airport Ltd compensation of £959 for the damaged information screen.