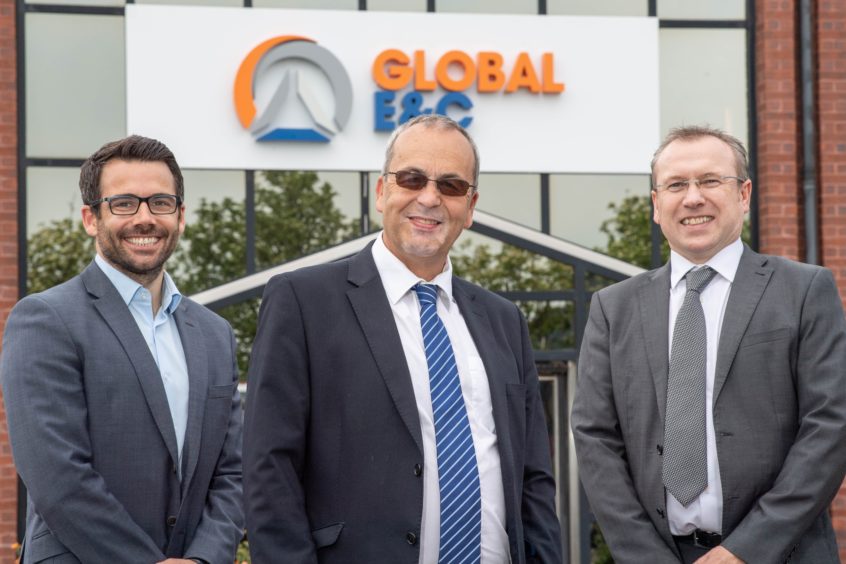 Oil service firm Global Energy Group (GEG) is celebrating the biggest deal in its history, with a value understood to exceed £100 million.
The "life-of-field" contract with US oil and gas producer Apache was clinched by GEG's recently-formed subsidiary Global Engineering & Construction.
Global E&C will provide brownfield services on Apache's UK assets, which include two of the North Sea's household names – the Forties and Beryl fields.
A specific contract value was not disclosed, but it is understood to be worth a nine-figure sum to Global E&C, spread over the remaining production-life of the assets.
The company said about 200 jobs had been safeguarded and that it planned to bring in another 60 people to service the Apache deal and other recent contract wins.
Payments from Apache will depend on the amount of work carried out during a given period, though there is an estimated annual minimum fee involved.
Apache has also dished out life-of-field contract extensions to PD&MS and Wood Commissioning Services.
The Houston-headquartered firm described the awards as a sign of its long-term strategic commitment to the North Sea and UK supply chain.
Bosses at Global E&C said their deal highlighted the level of trust shared between the Scottish firm and "cornerstone customer" Apache.
Managing director Derek Mitchell said the pact signalled a "notable shift" in how Apache had chosen to engage with the supply chain.
Terry Allan, corporate development director at Global E&C, added: "This award allows us to take a longer term view in how we drive further efficiencies, invest in new technologies and how we develop our people to overcome the challenges we face in our industry."
Global E&C was launched earlier this year when GEG, of Inverness, bought a majority stake in Apollo Offshore Engineering. GEG combined its own integrity and construction wing with Apollo's brownfield engineering division to create the subsidiary, which is headquartered in Aberdeen and has 900 employees.
GEG was launched by Roy MacGregor, its Invergordon-born chairman and majority shareholder, in 2005.
NOT VERY COMMON
Lengthy contracts between operators and suppliers are a welcome vote of confidence in the North Sea, but need to be carefully thought out, Aberdeen lawyers said.
Judith Aldersey-Williams, Aberdeen-based partner at law firm CMS, said life-of-field contracts like the one agreed by Apache and Global E&C were "not very common".
Ms Aldersey-Williams said the benefit of having a "term contract" was the ability to retest the market for price and quality so that the incumbent does not get "complacent".
With life-of-field deals, provisions should be inserted to make sure the contractor invests in technology and keeps improving efficiency, Ms Aldersey-Williams said, adding: "This can be done in a number of ways including gainshare approaches and innovation life cycle models, which would chime well with the Oil and Gas Authority's focus on collaboration.
"In a very long term contract you might want to think about change-of-control clauses to avoid the potential of ending up being in a very close relationship with a competitor.
"One contract for one platform is unlikely to foreclose the market but if these became widespread there would be competition implications to consider."
David McEwing, partner at Addleshaw Goddard, said he was encouraged that Apache was looking further ahead and that the North Sea was hosting brownfield development work.
He said: "This is a good news story, but the question is: Will work flow down through the UK supply chain, is the pricing right, and are there enough skilled people out there to do the work?"
Matt Abraham, supply chain director at Oil and Gas UK, said: "This is an excellent example of how operators and oilfield service companies are working constructively to promote innovation in commercial arrangements to help unlock activity on the UK continental shelf in a sustainable way.
"Our new supply chain principles support both clients and suppliers in delivering continuous improvement in performance by outlining good practice in areas including risk & reward, contractual terms and competency assurance to create better value and boost competitiveness.
"We encourage industry to make a commitment to applying them so we continue to play a key role in meeting the UK's energy needs in years to come."