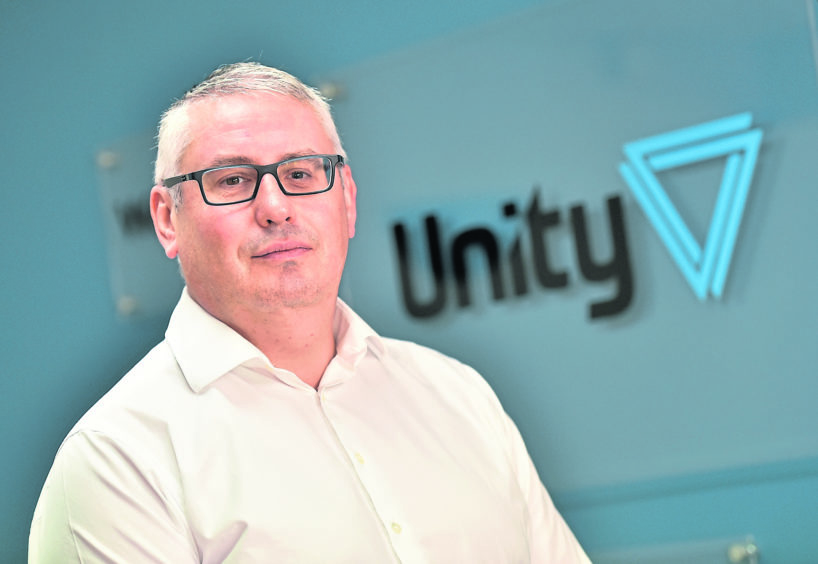 A north-east well integrity specialist is finding strength in union.
Given the current political situation, it's probably not something huge numbers of British people can honestly proclaim.
But less than a year on from the launch of Unity – a product of  Well-Centric's acquisition of the European subsidiary of Calgary-based Simmons Edeco – the company's boss is in high spirits.
The deal succeeded in giving Unity a large number of long-term clients
– about a third of North Sea operators. And an influx of field service staff lifted Unity's headcount to about 115 from 40.
Part of FrontRow Energy Technology Group, Unity now has just over 130 people on its books, with bases in Aberdeen, Great Yarmouth in Norfolk and Esbjerg in Denmark.
Unity's headcount is expected to keep increasing by around 10% per year as it scores more work and continues investing in research  and development.
Gary Smart, Unity chief executive, said nothing "miraculous or scary" emerged during the integration period, though the task of understanding the technical challenges faced by Simmons Edeco Europe's clients takes time and is an on-going endeavour.
It tells him the company did some "pretty decent" due diligence
on Simmons.
Smart, who has worked in the sector for 30-plus years, said: "There were certain parts we could integrate quickly, like back-office support, and there are certain parts that
you simply don't touch – you wait and learn.
"The support side is well-integrated, but the contract supervision and management we've kept separate.
"There's never really a right way or a wrong way of integrating
a business. It's just a case of learning their organisation."
Smart said there was a "market share aspect" to the transaction and that Unity expects to start working with more operators, seizing contracts from rival surface well integrity businesses.
He is confident Unity's focus on lower costs will stand it in good stead in that regard.
Existing clients seem convinced too. In the past six months, Unity
has extended four of its key contracts, worth just over £3 million year-on-year.
Unity is also keen to develop more technology to bring to market.
Smart – whose former employers include Weatherford, NOV, Kvaerner and Tendeka – said the best performer for Unity is its own range of Christmas tree spare parts
and actuators.
Demand is "going up and up" from operators faced with the challenge of replacing obsolete components that are no longer made by original equipment manufacturers, he said.
"You'll see equipment offshore that's 30 years old, so to go and look for that original part is maybe not practical," he explained.
"Anyway, why would you want to put 30-year-old technology back on the installation? We modernise that. The next step is to make things a bit more compact because space is tight on a platform."
Smart is also excited about Unity's temporary abandonment cap test tool (Tactt), which is used to pressure test suspended mudline wells from a vessel prior to plugging and abandonment (P&A).
It was recently deployed to support an end-of-life project in the southern North Sea, delivering meaningful safety and cost savings to operator Spirit Energy in the process.
In a nutshell, the technology helps operators work out whether they can continue with vessel-based intervention, or need to return with a rig at a later date, which would be 30-50% more expensive.
And earlier this year, Unity unveiled its surface intervention system (SIS), a piece of kit that can be used for installing or removing Christmas trees, well inspection, milling and well-bore clean-out.
Unity said SIS was more compact, required less manpower and was cheaper than other well intervention systems, such as wireline and
coiled tubing.
Unity's speciality is servicing late-life assets, but as Smart explained, there's a natural progression for Unity with its clients.
As the asset comes to the end of its life and needs to be decommissioned, Unity will be contracted through its core agreements to remove wellhead equipment.
The company is building up some decommissioning pedigree, having supported P&A activity on more than 100 wells in the past three years, servicing in excess of half of North Sea operators.
Smart explained that about 95% were surface wells, while the  rest were subsea.
As the most expensive part of the entire decommissioning life cycle, P&A could be a profitable area in which to build up a strong  track record.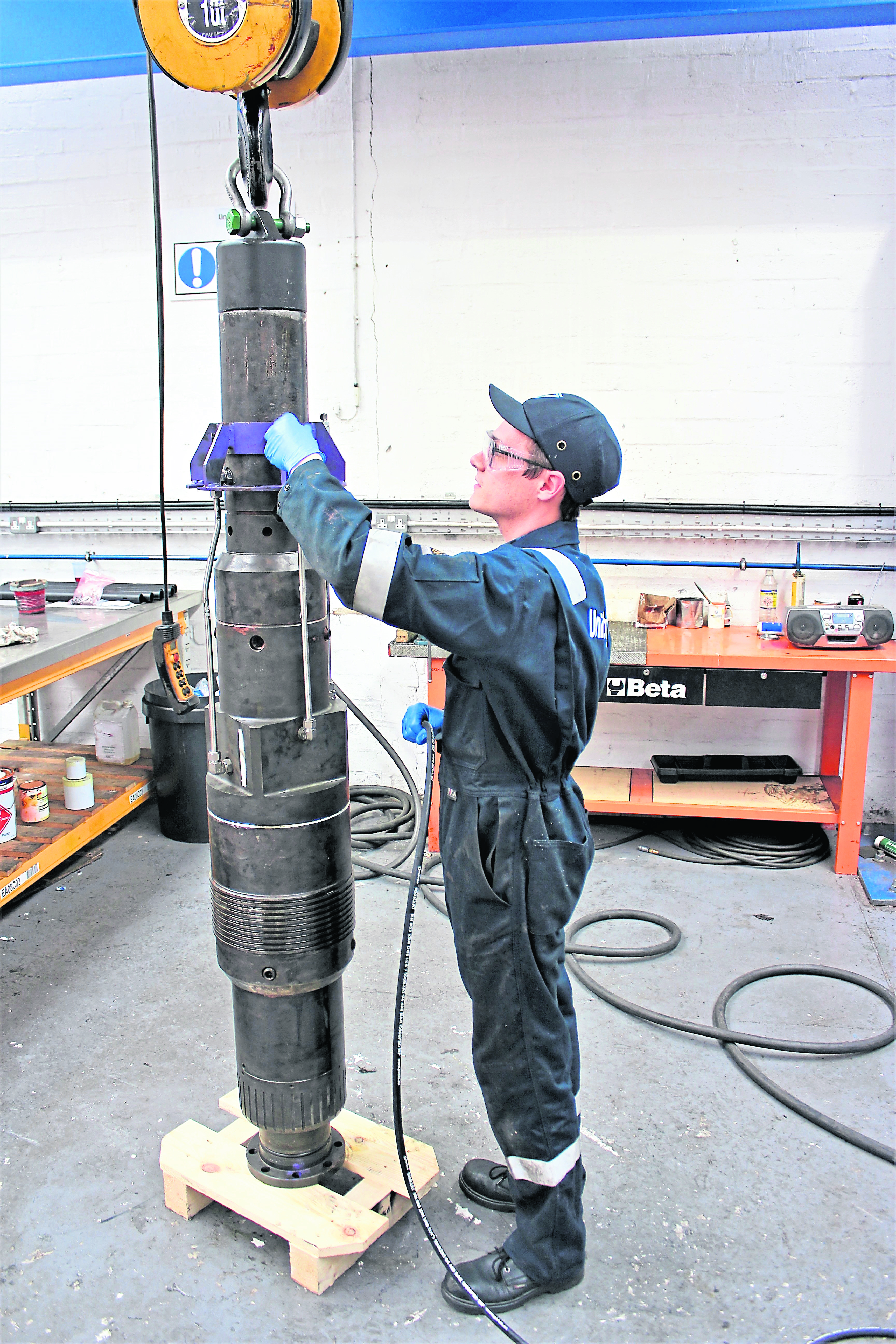 According to Smart, the supply chain still has some growing up  to do if the oil and gas industry  is to drastically reduce its "eye-watering" decommissioning bill.
He feels the supply chain is well-established and clearly defined for new offshore oil and gas field developments and late-life  integrity work – but not for decommissioning itself.
"If you were to start a new drilling campaign, you know where it starts, from the FEED right through to bringing on first oil," he explained.
"The reverse isn't true in decommissioning. There are a lot of supply chain companies out there and their clients are learning as well.
"So there's some way to go for the supply chain to become mature for decommissioning."
Smart added that there is, however, a lot of talk between all suppliers and a willingness to work together, pooling their services for a complete package.
"It's a question of moving that discussion onto who's going to be the single point of contact, who's going to manage this?" he said.
"There's a real mix of specialist service, technology and project management companies.
"It's about how all of that works together. That's going to be one of the key things that's going to drive savings in decommissioning.
"The industry isn't where it needs to be in that regard."
Part of the problem is the relative lack of tenders that have been put out for decommissioning work in the past couple of years, he added.
Another issue is the difficulty of predicting the timing of decommissioning spend
by operators.
The Oil and Gas Authority (OGA) has provided forecasts for overall spend on decommissioning in the UK, coming up with a figure of just under £60 billion two years ago.
The regulator said in July 2019 that 17% had since been shaved
off the initial estimate, lowering the figure to £49bn. It meant the industry is already about halfway towards reaching its 35% target.
OGA said about 90% of decommissioning expenditure would be incurred over the next 20 years, but admitted to "considerable uncertainty" in the forecast.
Smart said the lack of clarity meant it was reasonable for companies to make decommissioning part of their competency and a feature of their technology development, but perhaps shouldn't be the be-all and end-all.
He said: "There are a lot of decommissioning conferences and focus on the area, but I'm not sure the spend is here yet.
"I'm not forecasting when we're going to see the first big ramp up in decommissioning activity.
"We've been talking about decommissioning for quite some time now and we're always expecting that ramp up – but it's never
quite here.
"It's difficult to plan for something when there are not a huge amount of bids coming out."
Recommended for you

EnQuest and Repsol Sinopec set out clutch of upcoming decom contracts