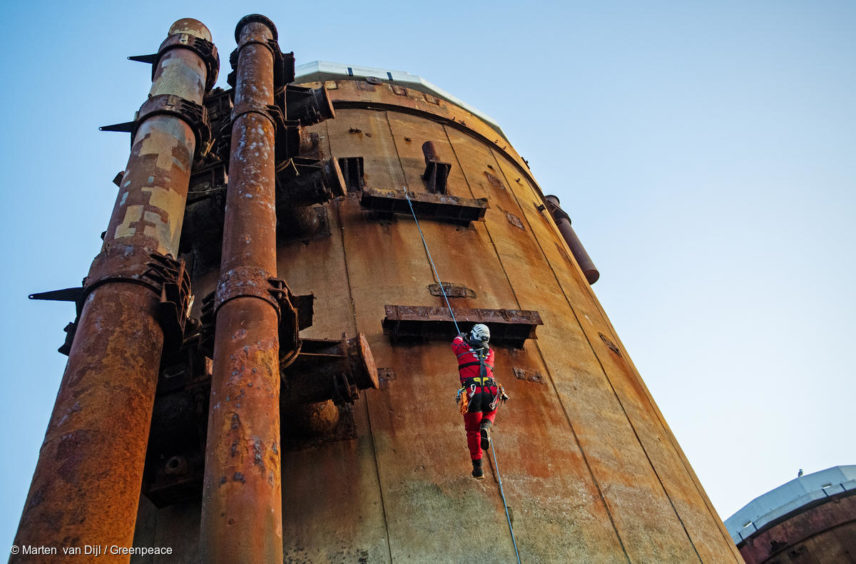 Oil and gas giant Shell has been accused by Greenpeace of attempting to ban the climate activist group from further North Sea protests.
Shell is going to court this week in Edinburgh seeking an injunction against Greenpeace International and Greenpeace Netherlands to stop future offshore action.
The activist group said it will defend its right to protest.
It branded Shell's legal threat "absurd" and an attempt to restrict Greenpeace's "fundamental human right to peaceful protest".
Shell said it is seeking "only to prevent Greenpeace protestors breaching the statutory 500 meter safety zones around platforms in the Brent field".
Protestors from the Netherlands, Denmark and Germany climbed rigs on Shell's Brent field off Shetland last month, protesting decommissioning plans which it said would dump tonnes of "oil waste" into the sea.
Two protestors climbed the Brent Alpha platform, while another two ascended the legs of the Brent Bravo, brandishing signs and banners reading "Shell, clean up your mess".
Activists reached the field, 115 miles north-east of Shetland, via the Rainbow Warrior ship owned by Greenpeace International.
A Shell spokesman said: "We wholeheartedly support the right to protest peacefully and safely.
"Shell is seeking a court order only to prevent Greenpeace protestors breaching the statutory 500m safety zones around platforms in the Brent field, putting themselves and Shell staff at risk – this is our primary concern.
"As part of the decommissioning of the four platforms in the Brent field, there is now only one which is manned and so able to offer urgent assistance to any protestors in the event of an emergency in this very remote area."
Greenpeace halted its protest action at a Shell North Sea field after 24 hours, leaving a graffiti slogan of "toxic waste" on the Brent Bravo platform.
Joris Thijssen, executive director Greenpeace Netherlands said: "At a time where millions of people across the world fill the streets to demand that fossil fuels stay in the ground, this attempt by a polluting corporation to throttle the right to protest, only shows that the movement to protect the planet is winning.
"Shell can try to shut us up, but we will only get louder."
Recommended for you

'Low risk' of Greenpeace legal action derailing Jackdaw, says Shell