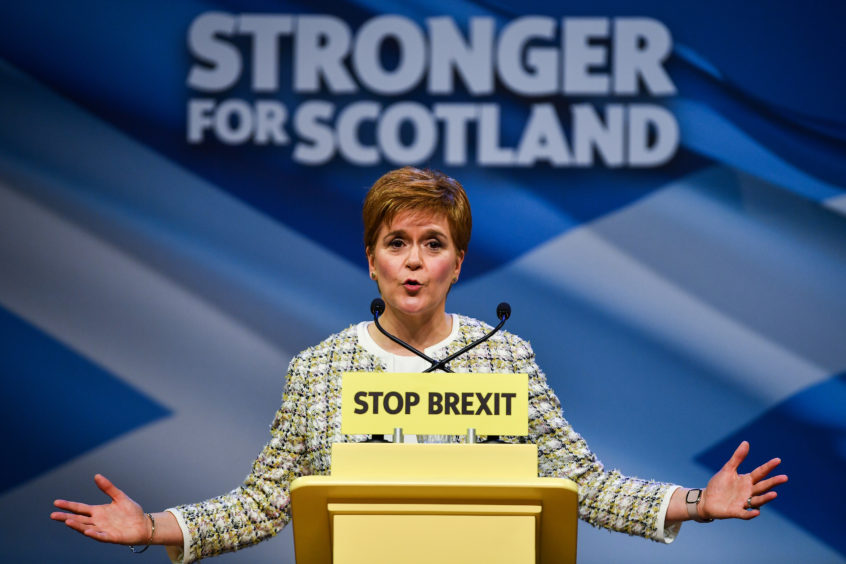 Nicola Sturgeon yesterday warned Labour's oil tax would cost north-east jobs but declined to give a cast-iron commitment to oppose the plan during Westminster talks.
The SNP leader attacked Jeremy Corbyn's plans for a £11 billion "windfall" tax on the oil and gas sector when she unveiled her party's manifesto yesterday.
Mr Corbyn's pledge of a one-off levy to help workers move into low carbon jobs has been described by his opponents as an "Aberdeen tax".
At the manifesto launch in Glasgow, Ms Sturgeon said the tax was another example of Westminster governments using billions of pounds of Scottish resources to balance their books.
The first minister claimed the Treasury had "pocketed" £304bn since the discovery of North Sea oil as she publicised the SNP's own plans to ring-fence oil and gas receipts to fund the transition to green energy.
Ms Sturgeon said she was against Mr Corbyn's tax plans, arguing they would not result in a "fair" transition from fossil fuels to renewable energy.
But when asked if she could rule out SNP support for Mr Corbyn's oil levy in any deal to prop up Labour in government, she replied: "I am not attracted to that (the tax) or in favour of that. The only caveat is that I haven't seen any detail of it."
She added: "But it seems to me that that proposal would cost jobs in the north-east of Scotland in particular. I am absolutely committed to the transition away from fossil fuels.
"That transition is already under way in Scotland and we have got to make sure that is done fairly."
Conservative candidate for Gordon Colin Clark said: "Nicola Sturgeon has made red lines for working with the Labour party but she hasn't ruled this out."
"The north-east of Scotland depends on the oil and gas economy and the SNP candidates up here should rule out having anything to do with an £11bn tax that would undermine employment."
The SNP leader also said she "deplored" Mr Corbyn's lack of leadership on the issue of anti-Semitism and said "decent" SNP MPs would "make sure the right values are to the fore on the part of any government".
The SNP manifesto outlined the price of SNP support for a Labour Government including boosting Scottish NHS spending by £4bn over the next few years.
Ms Sturgeon also demanded the next UK Government "makes right" the £13.9bn cuts Scotland had suffered in a decade of austerity.
She repeated her call for an independence referendum next year and vowed to push for drugs laws, immigration powers and employment rights to be devolved to Holyrood.
The document included the SNP's demand for the scrapping of Trident nuclear weapons on the Clyde.
Recommended for you

'Dangerous and damaging': Six-tonne North Sea oil spill in marine area