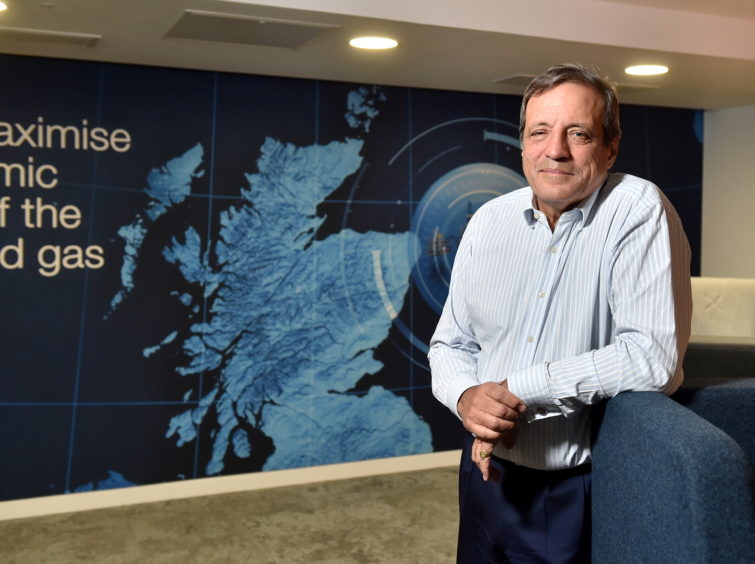 The chairman of the Oil and Gas Authority (OGA) has set out four targets for the North Sea industry to meet before a major climate conference comes to Scotland in November.
Tim Eggar addressed senior industry leaders at a meeting in Aberdeen last night, saying there has been "too much naval gazing" in light of the climate emergency and there needs to be "action, not just talk or more analysis".
He added that the industry's licence to operate is "under serious threat" and there is no scope for a second chance.
Ahead of the COP26 Conference in Glasgow in November, Mr Eggar said the industry needs to develop and go public on a package of four measures demonstrating its commitment to net zero.
The first two were "clear, measurable greenhouse gas (GHG) targets" and a challenge to show work has started on "at least two" major carbon capture and storage projects (CCS) – a technology to store emissions underground.
He also called for progress on energy integration, particularly getting started on a project to electrify platforms, while the final measure was an acceleration of work to ensure a diverse array of skills for the long-term future of the industry.
While efforts are being made on some of these measures, Mr Eggar said the industry is "collectively not doing enough" and the sector needs to work "much, much faster" to reduce its carbon footprint.
The UK Government has set out a legal target to become net zero by 2050 and Mr Eggar said it is "quite feasible" for the North Sea to become carbon negative within that time-frame.
Mr Eggar was speaking at the MER UK Steering Group, which oversees efforts around key strategic issues facing the industry.
From the OGA's perspective, he said the regulator will be fully integrating net zero into its requirements, including taking a "much closer" look on flaring and venting when it comes to project consents.
It will also apply an "area plan" approach to encourage collaboration on projects to integrate clean energy solutions offshore such as renewable power.
Meanwhile, it will seek more information from operators to "shine a light" on any lack of inclusion and diversity in order to help ensure new skills are being brought into the sector.
CCS is seen as a vital technology for reaching net zero targets and Mr Eggar said "policy clarity" is needed from the government as soon as possible in order for there to be a "firm and verifiable plan" to develop it.
Several companies have begun to set out their own targets to reduce GHG emissions but there is not yet a clear collective target for the UK offshore sector.
The industry has developed "Roadmap 2035" which states the sector must be "on track" to become a net-zero GHG emissions basin by 2050.
Similarly a group of firms, including BP, is working on a project to power some North Sea platforms with green electricity, while Shell and Chrysaor have supported the Acorn CCS project at St Fergus.
Diversity and inclusion remains a huge challenge for the industry, although there is recognition that progress is being made, particularly with new employees.
Kwasi Kwarteng, the UK's minister of State for Business, Energy and Clean Growth, echoed Mr Eggar's comments.
He said: "All parts of our energy system – and our economy – need to adapt if we're to reach our goal of eliminating our contribution to climate change by 2050. Our oil and gas industry is no different.
"We share the OGA's view that encouraging and supporting the sector to take the steps necessary to minimise carbon emissions will be increasingly important in maintaining investor confidence and the industry's social licence to operate."
Recommended for you

NSTA: £4bn of North Sea developments approved in 2023