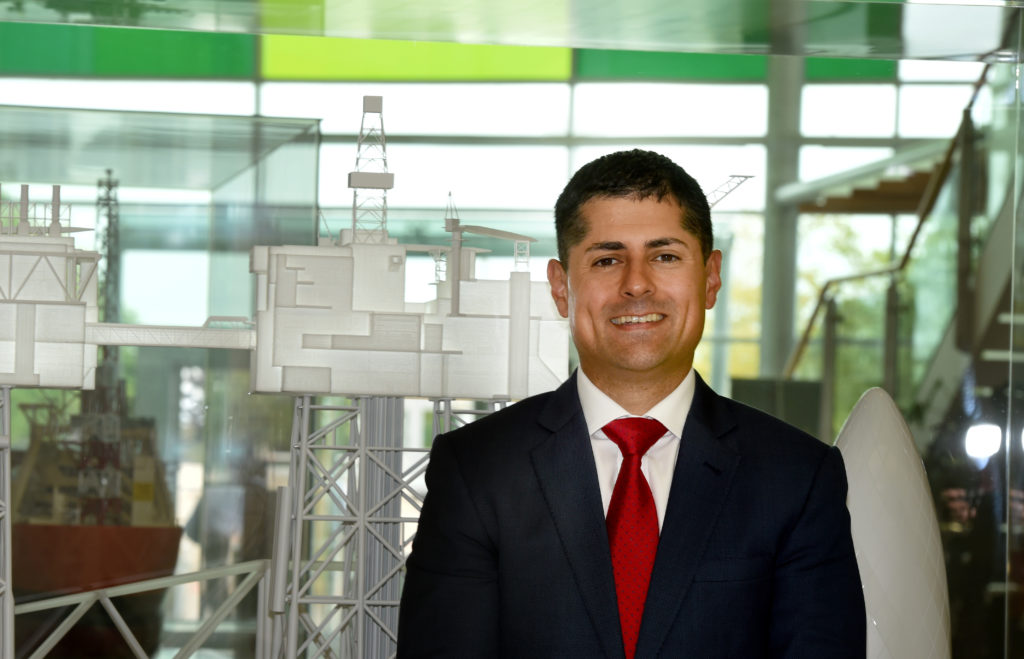 BP's UK offshore business remains "vital" to the group, its North Sea boss said at the end of a momentous week for the supermajor, which set out ambitious emissions goals.
Ariel Flores, regional president at BP, said the UK continental shelf (UKCS) was one of the firm's "top provinces" and predicted the company would still be producing North Sea oil in 2050, albeit at lower rates.
He stressed that the firm's North Sea oil business would have to keep performing strongly if BP is to achieve its newer, greener objectives.
Mr Flores also said BP employees were every bit as "passionate" about the environment as the protestors who have challenged the oil industry in recent months.
Mr Flores was speaking last night at an event organised by the Scottish Council for Development and Industry, at BP's base in Aberdeen, in the wake of new group chief executive Bernard Looney's unveiling of the firm's new "destination".
BP will overhaul its structure as part of a drive to become a "net zero" company by 2050, eradicating hundreds of millions of tonnes of emissions every year.
The announcement was well received by many investors, analysts and industry figures, though BP was criticised for a perceived lack of detail and near-term targets.
Mr Looney, a former BP North Sea chief, did say he would go into more depth at the firm's capital markets day in September.
Mr Flores recognised not everyone would be satisfied with BP's "pace".
But Mr Flores said BP's commitment was "clear" and that the energy transition represented an "enormous opportunity", with more than a trillion pounds of investment required to help deliver international climate targets.
He said "squaring the circle" of the "dual challenge" of supplying more energy with fewer emissions would be "difficult and complex" in an ageing North Sea.
BP intends to pull a number of "levers" to reach its goals, including carbon capture and storage, hydrogen production, and offsetting.
Mr Flores believes the "massive capability" and innovation boasted by a UK oil industry "built on grit, determination and massive feats of ingenuity" will play a key role BP's plans.
He said BP employees in Aberdeen were coming up with lots of ideas for busting emissions from the firm's platforms.
Mr Flores, who has led the North Sea business for two years, said he had "zero doubt" people working in the oil industry cared deeply about eliminating emissions.
He said: "Do we really think someone on the corner with a banner has more passion, drive and commitment than the people in this office to do something about it? I would say 'no'."
In the UK, the company is replacing and modifying inefficient equipment on its platforms, investigating powering its installations with renewable energy supplied from shore via cable, helping develop methane monitoring technology, and backing a carbon capture project in Teesside.
The firm's UK portfolio has been "refreshed" in the last few years. Stakes in the Forties Pipeline System, Sullom Voe Terminal, and the Magnus and Bruce fields have been divested, while the Andrew field is being sold to Premier Oil.
At the same time, BP has shown commitment, with multi-billion dollar investments in the Quad 204 project and Clair field, both west of Shetland.
Mr Flores, who has worked for BP for 20 years in several locations, including Angola, Azerbaijan, Russia, and the US, said reservoirs west of Shetland would be the "engine" of the UKCS out to 2050.
He added that while the UKCS had "world class capability" and a "very competitive fiscal framework", the sector cannot get complacent.
Mr Flores warned that competition from other regions for investment was already increasing, and that the need to commit funds to alternative energy sources would make that competition even fiercer.
Recommended for you

North Sea firms relinquish swathes of licences to NSTA regulator